Since September '05 when they first released their first collection, Zuriick has been recreating simple utilitarian footwear. Known for putting a spin on ubiquitous canvas shoes, the brand is not averse to presenting clients with electrifying colours such as bright magenta. They indulge us a few moments of their busy work schedule.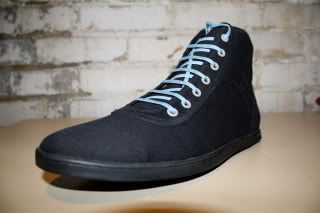 BPMW: What are you working on now?
Zuriick: Currently we're working on Fall/Winter 2010

BPMW: What has caught your eye recently?
Zuriick: Lately nothing has caught my eye. I've just noticed shoes in general are getting too busy and detailed. Which has made me want to scale back and make Zuriick even more simple, if that is at all possible.

BPMW: What are you planning on showing for SS10- for example your key trends, fabrics and colours etc?
Zuriick: We're introducing two new soles, a cement sole and a leather sole. These have been under development for a few years now and we're excited that we are getting to expand our line to offer a few more options for customers. We have really focused on canvas shoes and bright colors, but with SS-10 we're using more leather and toned down the color palette a bit. I've been spending a lot of time outdoors and I feel like it can be seen in the colour ways of our shoes.

BPMW: What are some themes found throughout your collection?
Zuriick: I don't typically design from an overall theme. Zuriick is designed for ourselves and what we would like to wear.

BPMW: Do you have any summer plans?
Zuriick: For vacation? No, just working.