Milan Fashion Week wraps up today. Before you tackle today's shows, check out the best of Monday.
All photos from WWD
Andrea Pompilio started the day with his signature eccentric aesthetic that was primarily about layering than it was color play. Patterns remained in polkadot and horizontal bar striped suiting and the show finished with embellished sweaters.
Marc Jacobs took us to the 70s for AW14. Inspired by the 70s peacock male, Jacobs' collection has velvet jackets, an alpaca duffle coat, and pilled cashmere that one would've seen on Wilt Chamberlain or in the movie American Hustle.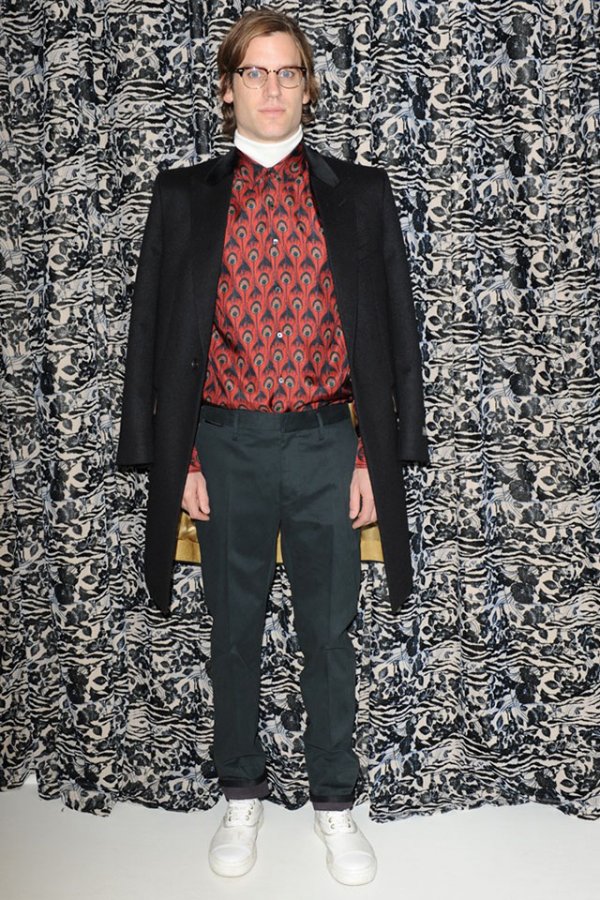 Armani showed that he has more oil in his tank with his beautiful AW14 Emperio Armani collection. Wool coats were complimented by skinny tailoring as expected of a young post-grad, which was Armani's intention, as he stated, "when guys put these suits on, they feel like young princes."
Fiona Cibani and Ian Hylton produced a stellar Ports 1961 AW14 collection that was very contemporary. The collection was in the same vein as Neil Barrett combining tailoring and sportswear.
Frida Giannini kicked off her AW14 Gucci collection with an array of pastel looks that were inspired by portraits by painter, Kris Knight. Giannini stated "I wanted a lighter atmosphere," in regards to her collection although it took a turn to navy and black to end the show.
The Etro AW14 collection was a showing of masterful tailoring with solid and windowpane checked suits with matching outerwear. The collection stayed on the brighter side with khaki, camel, and neutral tones that are fitting for Italian menswear. The show ended with tailors walking the runway with their finished work.
Fendi closed the day with a bevy of leather jackets, wool coats, and fur - their expertise. Silvia Fendi told WWD, "every coat has a story," which makes even their calfskin biker jacket, waxed and embroidered to mimic alligator skin worth picking up.
MFW closes today with Giorgio Armani, DSquared2, and Roberto Cavalli. Keep it locked with us for the final day of MFW and the start of Paris Fashion Week.