Good eyewear brands are hard to find, and we are loving Oliver Goldsmith right now. Not just because of their funky styling, 80 year heritage and amazing made to order services. But also, the initials -- OG-- make this brand the real deal.
Click here to see the full range.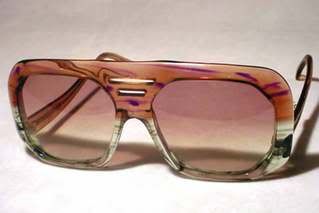 Based in Notting Hill, London, Oliver Goldsmith has been a family run business offering really cool shades since 1926. The brand is practically synonymous with mid 20th century celebrity and designer style. Grace Kelly, Olivia Newton John, Audrey Hepburn and Givenchy are all known for their OG specs. The London Times wrote in 1970, "The man behind the eyewear revolution in Oliver Goldsmith. He is to sunglasses what Vidal Sassoon is to hair and Mary Quant is to clothes." Groovy!
Today bands like Oasis and Franz Ferdinand have been spotted rocking their modern vintage OGs.
The company draws a high end clientele because it is one of the only companies that still makes its eyewear by hand. For a truly bespoke experience, clients can visit the company showroom in Notting Hill and design a custom pair, drawing from the company's decades' worth of archives.  You pick your style, lens color and material color, and then have the glasses custom fitted.