Portland Garment Factory is a lady-run business built on the idea that transparency, taste and quality can all exist under one vertically integrated roof. We caught up with Co-Founder Britt Howard to hear about the how's and why's of their dynamic business. Here's what went down.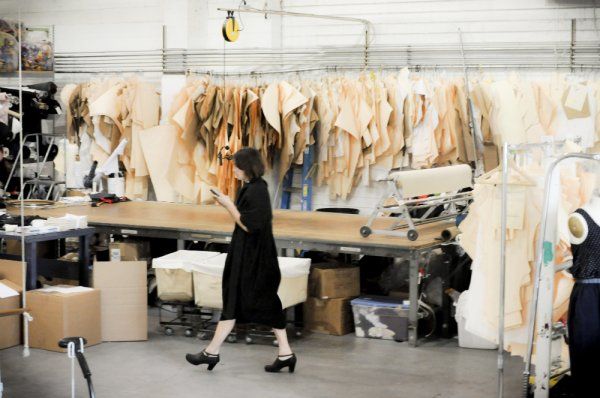 Scouting and purchasing a factory doesn't sound easy. How did you do it?
I actually opened PGF in 2008. I wanted to create a place where indie designers and the like can be supported in every step of the process. PGF can help source material, create patterns and samples, all the way to full line production. PGF HouseLine was the next natural step in the evolution of our business. We have grown from the original tiny studio to a 5000 square foot building with 13 employees.
What were guys (err, ladies) doing before this? Did you have any experience in clothing production or manufacturing?
My partner Rosemary had worked for a small designer in SF before moving to Portland. We met when she came to PGF inquiring about our services and I hired her on the spot to work as a cutter. She became my full blown business partner just a few months later! I did not have formal training but was a practiced artist and maker. We are yin and yang!
Your brand is uniting the "behind the scenes", transparent aspects of fashion with the "front of house/sexy" part of the business. What's the trick to balancing all this stuff in a way that makes sense for the consumer and for your brand/employees?
It is very important to us to get the message across that PGF is a domestic manufacturing company first and that HouseLine is a showcase of our factory's expertise. We decided to brand HouseLine within PGF rather than separate them because they would not exist without each other in the same capacity.
Exploring the US factory-made aspect of the brand has been interesting because there are many little rabbit holes your brand can get stuck in (eco, made in USA, heritage.) I strive for HouseLine to have autonomy when it feels right and co-branding with the factory when it feels right. This means I have to pay close attention to what audience I am speaking to. We are still fine tuning this aspect but it hasn't been a problem to make rad stuff and hook people into our story.
Does your brand have a social mission?
We like to think that HouseLine carries the 'quality over quantity' ethos. Our social mission is to make timeless clothing that ladies can be confident and have fun in!
Finish this sentence: All You Need Is…
More walky, less talky. This is a phrase in our shop that means, "don't tell me, show me!"
Who are your heroes?
All the people who work at PGF (5 languages spoken, combined 213 years experience and 21 children raised!), the amazing ladies in Portland who are brave and funny artists and entrepreneurs, Louise Bourgeois, Jimmy Carter, Joan Didion and David Lynch.
Are you as inspired as we are by PGF? Keep up with their moves on Instagram!