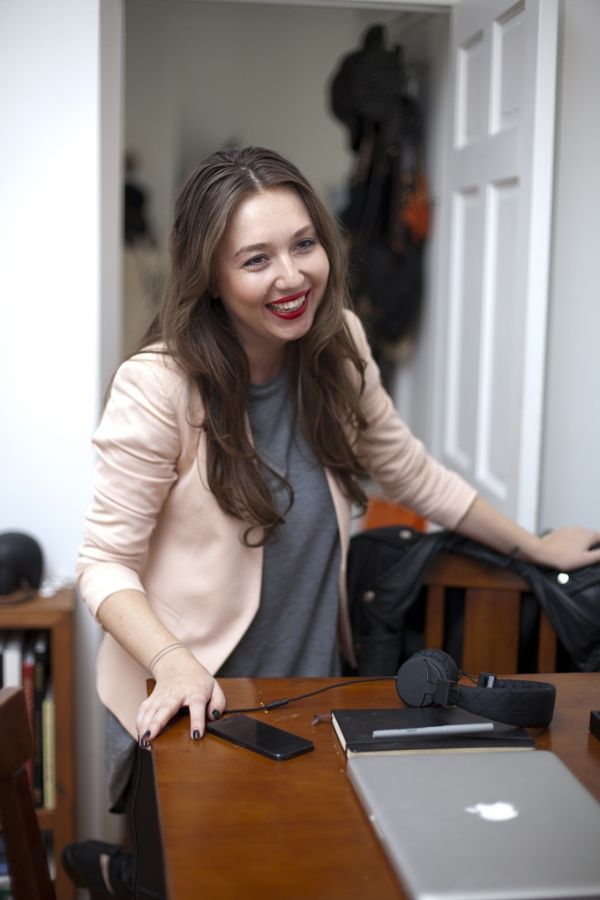 Words & Interview by Jess Hemenway/ Photography by Will Foster
After being discovered through a blog she created for kicks and schlepping samples as a stylist assistant, she is now the creative director of CREEM- the up and coming art and style magazine. She's the kind of girl we all wish we had the time and guts to be-- with her sometimes out-there style, social life and travel to the most desolate of places for shoots. This lady knows how to create something of rising interest and beauty with the smallest of budgets. We had a chance to visit her just as CREEM Issue No. 7 featuring Grimes was hitting newsstands. Already hard at work on No. 8 she was gracious enough to let us into her work space and get to know her. Meet Katerina Simonova of CREEM Magazine.
Where do you live:
Williamsburg, Brooklyn
Describe your personal style:
Confused! I love themes and characters so my style can be a bit all over the place, but I don't like to take it seriously so it's always with a wink.
Favorite neighborhood hangout:
Extra Fancy and Nitehawk Cinema.
Currently reading:
"Everything Is Perfect When You're A Liar," by Kelly Oxford and Betony Vernon's "The Boudoir Bible."
Can you describe CREEM in 3 words?
Independent. Inspiring. Influential.
What's the magazine's readership like?
Our audience is mostly made up of people who actually work within the art, fashion, and music industries – the contributors, their friends, their extended circles, and the people they influence.
Can you tell us a little about your background and how you got involved with CREEM and why?
After dabbling in events and fashion PR I found my way to styling and started with CREEM as a contributing editor. I became really engrossed in the project and quite close with the Founder/Editor In Chief and after a few issues, I became Fashion Director and more recently Creative Director.
What was your favorite aspect of producing Issue 07?
The "Cult Culture" theme was really exciting territory and researching it was a ton of fun - I watched a lot of crazy documentaries until I started having nightmares and had to stop. Seeing all of the content come together is always the best part though!
What's next?
We're working on finishing up Issue 08 // Endless Summer which will be out in June and planning a big launch event for it in LA and another one in Montauk. We're also continually creating new content for our website and social media outlets.
The magazine world is evolving quickly. Why did you decide to invest in a print magazine in an age where digital content is so prevalent?
Our audience is very niche and because the readers are creatives working in the industries we showcase they really appreciate the value of something tangible and the way things look in print versus digital. I'm realistic about the importance of digital, but print will always have a special place in my heart.
Do you think you will ever have an e-commerce element on the site?
It's actually already in the works….stay tuned!
What is the most rewarding aspect of being a female entrepreneur?
Getting to make and break my own rules.
What is most challenging?
Working in art and fashion, I'm surrounded by a lot of amazing women in powerful positions so I actually find being considered too young to be taken seriously much more challenging than being female.
What's the best advice you've ever received?
Be yourself.
Who's your girl crush?
Our Issue 08 cover model Tati Cotliar.
Thanks, Kat. To find out more about CREEM and the release of issue No. 8 visit here.