Housed in an original A&P grocery store in Highland Park, IL, E Street Denim Company has become a destination for denim in the Chicago area and one of the most respected denim retailers in the country. Established in 1990,  and home to the Original Denim Bar, E Street houses some 12,000 pairs of jeans from about 60-70 vendors in hundreds of fits and finishes.
 
We spoke to owner Thomas George about the store and what's selling now...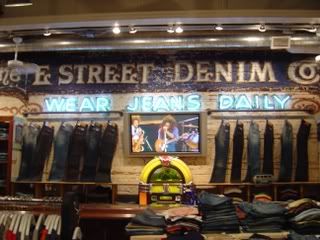 The E Street empire has expanded recently to include E Street Kids/E Street Girl division targeting infants through girls' sizes 7-14; The E Street Boutique dedicated to dressier looks; and Rubb, a home and body shop. A second location opened in Lake Geneva, WI this past summer.   
 
E Street Denim Company  has been named in Nylon Magazine as one of the top 50 stores in the world, listed in Sportswear International magazine's coveted Who's Who in Sportswear issue 10 times running, profiled in the Sportswear International's History of Denim, as well as mentioned as the "Best of the Best" in Chicago Magazine.
E Street Denim is one of only 15 accounts chosen to carry the Double RL label, which will be in store by late February. For spring,owner Thomas George is planning to source more unknown brands, and feature simpler graphics than in past seasons. V Neck tops for both men and women are expected to be a key classification.
So what's selling on E Street?
 
For women, straight and skinny leg jeans - 10"-15" leg openings; Wide leg jeans by Citizens, AG, Goldsign, and JBrand; Feel good fabrics like velour and French terry, as well as rouched pants, printed thermals tops, and tees; Dressy tops that work day to night and comfort clothes like lightweight thermals by brands like Hardtail, Splendid, Michael Stars thermals
 
For men, best selling brands include Nudie, Prps and Mason's as well as Andrew Marc outerwear and Martin Gordon tops and outerwear.
E Street Denim; 1876 First St. Highland Park, IL 60035; 847-433-0050