Located in the heart of Los Angeles, Brooklyn Projects is a world-renowned skateboard shop, streetwear boutique, and art gallery. BP was founded in December, 2002, by Dominick DeLuca, former pro BMXer, avid skateboarder, record company executive, and MTV VJ and "Merf" Osborne, an O.G. Venice skateboarder/surfer and established entrepreneur.
We spoke with Dominick about what's selling now in his stores.
By offering a prime selection of top-notch skateboarding brands and street-couture lines, Brooklyn Projects has fast become known as L.A. 's premiere skateboarding headquarters.
There's a mini-ramp in the store;s back yard which is frequented daily by such riders as Chad Muska, Andrew Reynolds, Mike Carroll, Scott Johnston, and even skate legends Christian Hosoi and Tony Alva. Nevermind BP's regular star-studded clientele, which Deluca says is too many to list.
Brooklyn Projects opened a store in Hiroshima , Japan , as well as a third location in LA's Echo Park in 2005.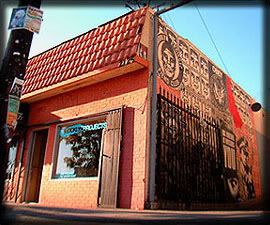 Brooklyn Projects' best sellers are:
1. Nike footwear
2. Crooks & Castles
3. 10 Deep
4. Fuct tees
5. Lee jeans
Brooklyn Projects Hollywood,
7664 Melrose Avenue, Los Angeles
Brooklyn Projects Echo Park, 2125 W Sunset Blvd., Los Angeles