We are loving a British brand called Unconditional. This 4 year old men's and women's brand is on the verge of global domination, with clean, strong silhouettes, and an avant  garde aesthetic.
The brand was launched as a tiny capsule collection of menswear for the Concrete shop, in London's Soho and is now sold in over 1000 stores worldwide. The brand now also features women's wear and shows at London Fashion Week.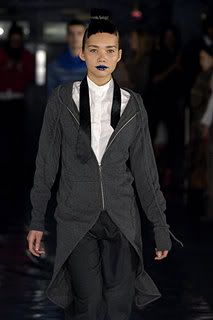 A combination of the laidback and the edgy, the backbone of the collection is luxury basics with an overlay of special pieces; relaxed in style, sometimes mildly androgynous always avant garde. UNCONDITIONAL is very London in its attitude, yet it also has an ease and simplicity, sometimes seen as quite American. UNCONDITIONAL has established its own feeling of a modern elegance with a good dash of r'n'r - pieces that are uncompromising in their attention to detail and high quality fabrications.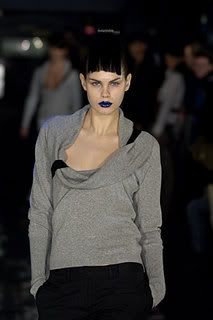 The wide range of males that have bought the collection include Brad Pitt, Adrian Brody, David Beckham, Jude Law, Ewan McGregor, Will Young, David Bowie, Ewan McGregor, Robbie Williams, Ricky Martin, Bono, Will Young, Goldie, Michael Stipe, Depeche Mode, Lamb, the Rolling Stones, Royksopp, Kasabian, Mika, The Feeling. And on  the girls front ... Skin, Gwen Stefani, Tori Amos , Kelis, Kate Moss, Roisin Murphy , Jade Jagger, Kelly Osbourne, Sheryl Crowe, Amy Winehouse, and Paris Hilton are fans.