While the masses may be conflicted as to whether or not it falls on the highbrow or lowbrow end of the pop culture spectrum, London's Nu Rave scene is inarguably becoming increasingly mainstream these days. Spearheaded by bands like the Klaxons and Shitdisco, Nu Rave is a revival of the '80s/'90s club scene and its style is marked by loud prints, and idiosyncratic pairings of a motley crew of garments. While stateside, it seems like every kid in New York thinks he's Rev Run's reincarnate, the U.K. interpretation of the decade is a bit more pop.
Continue reading after the jump.
 Cassette Playa
The lovely Agyness Deyn (who bares a striking resemblance to the iconic Twiggy—on acid) is a major proponent of the scene, along with longtime bff Henry Holland (House of Holland's namesake.) Holland, (obviously a man of many words) can be quoted saying "I make t-shirts with celebrity and fashion based slogans on them." The simple, oversize shirts often boast forced-rhymes such as "Let's play naked twister Linda Evangelista," and will run you £35 on his site or around $100 at Seven New York.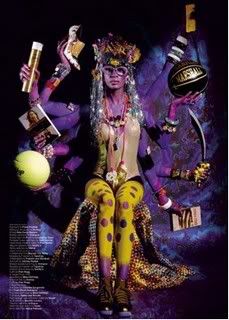 Super Super Editorial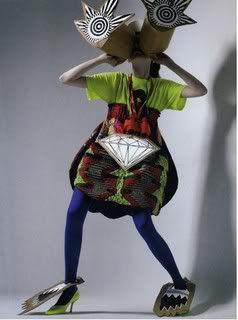 Cassette Playa
 Many detractors argue that the whole scene is way too contrived and just another corporate marketing scheme. Frankly, those kinds of Marxists manifestos should be left to the "Splasher." But thanks to spreads in a few high-fashion magazines (see the July issue of Elle,) I worry that the whole scene may actually just lose all street cred and just go the way of parachute pants (thank God those are gone!) The end all, be all of Nu Rave publications, SuperSuper never ceases to amaze me with just how ridiculous the entire scene can get. Which brings up another good point: should any person be given license to walk the street looking like a bunch of glowsticks exploded on their Salvation Army finds? Probably not. I mean, its great for editorial, but it is highly impractical to look like some day-glow invocation of Joseph and the Amazing Technicolor Dreamcoat. But I mean, who knows? As long as designers like Holland and Cassette Playa's Carri Mundane continue to create their wild yet enchanting creations, the "rave" may be here to stay.-- Virginia Jackson-Reed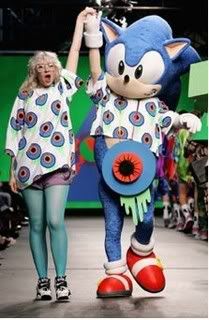 Carri Mundane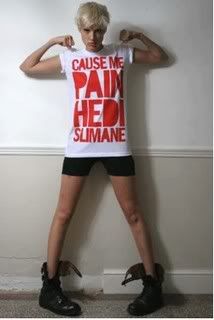 Agyness Deyn In House of Holland