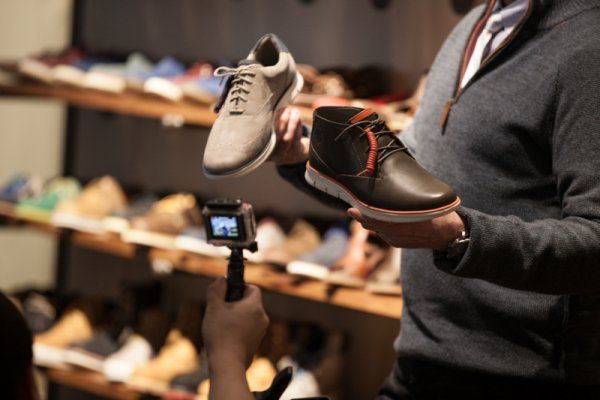 All photos from Timberland.
Consumption is one of many words in the English dictionary that has several definitions and uses. For one, if you're a member of the food chain you fall into two categories: producer and consumer. You're either a plant making your own food, a bunny ingesting that plant, an animal ingesting the bunny that went to nibble on the plant and so on. Outside of biology, consumption is also defined as the act of eating food, drinking a beverage, and/or how much of it you ingest. There are also these definitions to keep in mind: the purchases of a good or service and, how much information and/or entertainment you take in on a daily basis.
The last two definitions go hand-in-hand especially in the fashion realm. We're exposed to so much today and take in so much information on a daily basis that it becomes difficult to filter what we take in. Every so often there is a new list of designers, brands, bloggers or models that you should know now or something you should be wearing. It's like listening to a new sales pitch every minute. Brands have different pitches – even people have different pitches – and it shouldn't be related to a used car salesman trying to swindle you into buying a broken down ride. It's much different than that. Every brand has their own unique pitch or message that tacks onto what they are offering. What makes John Elliot hoodies so special? How come Supreme always has a line in front of their store every Thursday? Along with having a product the consumer wants, the product itself should also have a good pitch to go along with it.
Unfortunately, most brands suffer due to their muddled pitch that gets lost amidst the other messages. Sometimes the products speak for themselves, and sometimes the pitches are better than the products. Few brands stand alone in having a product speak for itself and have a strong message attached to it. Brands that have both tend to never be on a downturn. One brand that has both is Timberland.
After spending time in New Hampshire to visit the Timberland headquarters, it became clear what Timberland is all about. Now depending on when and where you were born, the brand will resonate with you much differently. For instance, if you were in your teens or 20s in New York City in the 90s you may associate Timberland with music. In Italy, the brand has a much different flair that is more about fashion than music. When you have a product that is well made and can speak for itself, that tends to happen. It's like how the adidas Superstar is less about basketball today than it is about Run DMC (even taking on nicknames that supersede the real name). This isn't necessarily a bad thing. When you have a product that is well made, it can and most likely will live on for decades reinventing itself for every generation. That's how it should be, but with an effective message attached to the product it gains purpose. For Timberland, the purpose has never changed, much like their neighboring businesses in New Hampshire.
While visiting local businesses in New Hampshire, one thing each business had in common was authenticity. At the BaileyWorks factory, we saw firsthand what goes into their fully functional totes, messenger bags, and leather cases. At Black Birch, a bar and art gallery in Maine, the menu consisted of New England's famous cocktails and the hanging art were done by local artists in the area. At the Seacoast Science Center, locals volunteer their time to help out at the nonprofit organization whether it be taking care of the wildlife or helping do their part to preserve the environment. Each business spoke to what Timberland is about. BaileyWorks bags are all about function and being built to last with a durable Cordura fabric and waterproof lining much like some of Timberland's own products. The Seacoast Science Center's environmental awareness is reminiscent of Timberland's own eco-friendly products (and the brand donates money to the center too). Even the art and drinks at Black Birch shared the spirit of New England with the Timberland brand. It all began to make sense.
Prior to seeing what New Hampshire and Maine had to offer, Chris Pawlus, Timberland's Creative Director, led his team in showing their 2014 offering at the headquarters, which he described as "expressive yet enabling." Pawlus continued to explain, "we're not about hi-tech innovation," but he did say that when it comes to design they aim to have "cleverness in modernity" and to not have any trade offs.
All New England brands have one thing in common and that is how they put function above else. Brands like New Balance, Eastland, and even GANT when they launched in Connecticut in 1949 were and still are about making a great product above all else. The products speak for themselves, and after the trip to the Timberland headquarters the real message became loud and clear. It's not about creating names of new technological innovations or being too scientific - it's about making products that do the job they set out to do.
Timberland is constantly introducing new styles that are meant to make your day much easier than before without jeopardizing what they stand for. They refuse to sacrifice and strive to put out the best products possible across different collections. Prior to seeing the headquarters and the neighboring businesses, I believed that the brand's message was about being built tough. I've learned that Timberland is about being authentic and true to where you come from. And with products that speak for themselves, their message is very simple to understand and much healthier to consume than most brand messages today. Timberland has succeeded in offering stellar products time and again without the need of a fancy or over-the-top pitch like most brands today. Their offering satisfies and will continue to satisfy, which is a crystal clear message that has always filtered in with ease throughout the years despite the interference.