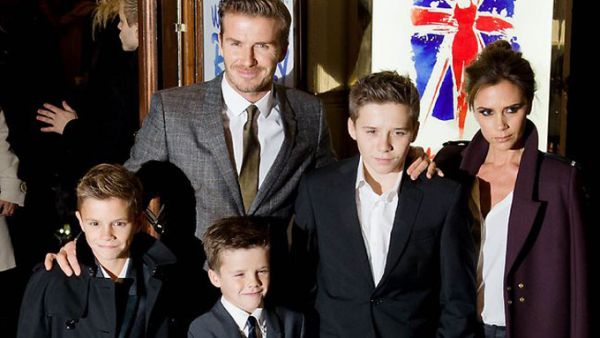 We're at the halfway mark of the month so that means that it's time for Father's Day! It's the day where your father can kick back, hang up his figurative Superman cape, and relax while you pamper him for being so supportive throughout your life. It's the day where you can finally pay for his meal, though he may protest, listen to his stories about growing up with your grandparents, and well, do stuff that dad likes. Whatever that is... Everybody's dad is different. Some have had the luxury of living with an easy-going, understanding, motivating dad that will uplift you while others have been stuck with strict dads that walk the tightrope between absolute monarch and fascist dictator (either way, you lose). It doesn't matter what type of dad you have, because they're all the same in that they have a heart of gold. They're like a lion with their cub, and no matter how old you get you'll always be their baby.
We'll never agree to who's dad is best of all, but we can agree that our fathers tend to have similar style and a taste in clothing that matches their character. We narrowed all of the styles down and comprised this list just for you. Here's our guide to your dad's style
Click here to check out which dad dresses like yours.
The Sophisticated, "Father Knows Best" Dad (modeling Orlebar Brown, Camo, and Garrett Leight)
The "Father Knows Best" dad embraces his patriarchal role and tries to dress the part. He gives great advice, never raises his temper, has a strong and extensive vocabulary, and loves to hear about your day at the dinner table. This is Brady Bunch dad. He knows you more than the back of his hand, and knows when something is bugging you. He likes to play the smart, gentleman role so he dresses the part.
He prefers tweed blazers and shoes on the weekends, and when it gets hot, he'll break out the shorts and keep his socks high. If this was another era, he would read the morning paper while smoking his pipe, but since it's the here and now, he reads his iPad and smokes his blu eCig while shopping for Loro Piana jackets on Mr. Porter. Now he's just waiting for you to make six-figures so you can buy his dream home with the fireplace and bear rug, then his act will be complete.
Click here to check out the next dad..
The "Never Gonna Change For Anybody" Dad (modeling Etiquette, Naked & Famous Jeans, and adidas Originals)
This unwavering, strict dad made sure you were home before the street lights came on and that you never made it to 3rd base until prom. He manages to see all and know all at all times. It's like he's omnipresent minus the divinity. Always a step ahead and always paranoid about who you could be texting assuming you're trying to land in some mischief. Though you've wanted to fistfight him since high school (and you know you'd lose), he has always kept your best interest at heart, and now it feels like you guys are much closer because he's no longer guarded and is sharing his sense of humor. When mom says, "That's just dad being dad," she's right. He has been this way long before your parents had you, and surprisingly, he has dressed this way as well.
This dad has zero interest in fashion and refuses to try on anything new. He knows his preference of fit, which he'll call "his fit" that no brand seems to ever make. You twisted his arm enough to try on a new shirt, and he'll hate it though it looks great. He will wear the clothes you get him for Father's Day and Christmas however so don't try except for those special days. Besides, when you're not paying attention he's replacing his old digs. Dad's steeze will be just fine.
Click here to check out the next dad .

The Outdoorsy, "Back in My Day" Dad (modeling Birvin Uniform, Momotaro Jeans, and Diemme)
This dad has been roughin' it and continues to rough it today. He knows how to fish and hunt for deer even though he doesn't need to. He swears that someday it'll be necessary again. Sure thing dad... He likes his Christmas trees real, his cars big, and keeps a flip knife on his key ring. He may have fooled you when you were a tike, but you figured out he's a domesticated animal. He'll make you feel guilty for never lifting a finger, call you spoiled, and chastise you for your inability to change a tire, but while you're gone he becomes a couch potato that begs to your mother to bring him things.
This "tough guy" prefers whisky over wine, likes his shirts plaid, and owns only one suit (though you've never seen it). This dad is playful, so if you take him to go shopping he'll joke about the clothing and ask numerous times if they're for women even though it's clearly a men's store. He'll humor you by trying the clothes on and often times he'll buy it. A new plaid wouldn't hurt. Cheers to you "wolfman dad"
Click here to check out the next dad .
The Slacker, "Your Dad's the Coolest!" Dad (modeling Cuisse de Grenouille, adidas Originals, and Camo)
Mom always cracked down on you for two reasons:
1. She wants what's best for you, but you refuse to listen. 2. Dad won't do it.
Sometimes dads get a bad reputation for being aloof, disinterested, or just plain lazy. Those attributes all wrap in one for this dad. He says yes to everything and lends you money all the time, because he wants to see you happy. He'll pick you up from any corner of the world at 3am even if you snuck out, and he'll try to sneak you to your room while mommy's asleep.When you screw up really bad, this dad reassures you that it's a-ok, that you win some and lose some but it's not the end of the world. Then he'll take you to the Yankee game just to cheer you up. He didn't see that what he's doing may be detrimental or that he may lose your respect, but none of the sort happened. You grew up to be caring and supportive, and you don't judge your peers. You grew up to be just like dad.
No matter what time of day it is or where you two go together, this dad always manages to wear a hoodie. Park, zoo, movies, dinner, wedding, funeral, there goes dad in his hoodie again. It's his signature. He cleans up very well though. There was that one time at your family reunion where he was clean shaven, got a hair cut, and actually looked handsome. Then the other 364 days of the year were spent dressing casually. Thanks for sneaking us home from the hotel after prom dad, and yes let's still keep that between us.
Click here to check out the next dad.
The Trendy, "New Blood" Dad (modeling Saint Paul, Birvin Uniform, and Caminando)
This dad just had another beautiful baby girl. Yes another, he has a 1-year-old too. He's new at this, but he's ready. He read all the books, was present for both deliveries, and he tries his best to give his wife some time to rest by watching the kids alone. He snagged GMail accounts for his children (full name@gmail.com) and made Facebook accounts for them too. He cooks, cleans, exercises, he's the husband to brag about, plus he knows how to dress.
Clothes sit on this guy far too well. You know when you see photos of celebrities with their children and wonder how not a single hair is out of place on their head? Well this guy is just like them except he's much closer to home. He likes his clothes slim, wears Nike Free Run sneakers all the time, and rocks James Perse digs. His uniform for the day consists of A.P.C. jeans, a henley, and Air Jordan IVs. This dad is still adjusting to his new role as parent, but he will never give up what's cool.
Click here to check out the next dad.
The Not-So-Trendy, "This is cool right?" Dad
"No dad... Stop dad.... You're embarrassing me dad!" This dad has hit his midlife crisis. Poor guy. He's paying more attention to what you like because he wants to feel young again and make up for lost time. He wants to drive you to the mall, he asks about Justin Bieber all the time, and he always finds his way into your room when you're hanging out with friends. This dad has never held a video game controller in his life, until today, and it was pitiful. He always asks for your approval and your advice on what's cool or what the kids are saying and wearing these days. He's listened to g.o.o.d. kid. MAAD city more times than you have and knows every word to 'Swimming Pools' even if he doesn't understand the song. You want to tell him to give it a rest, but you enjoy watching his attempts at being young. His shortcomings and triumphs have given you funny stories to throw in his face and laugh about with him. It has actually helped you two bond.
This dad is the easiest to go shopping with. He is willing to try everything and trusts your input 100%. When he picks out clothes by himself, he chooses the most colorful clothes that you know will like awful on him. He may bicker about not being allowed to try on the 36x32 canary yellow jeans that he picked out, but he'll listen to your reasoning and respect your insight. Sometimes he'll come home with a bag of new clothes, and you'll wonder why he feels the need to buy bright, plaid ties, but at the end of the day, it's dad. And dad always knows best.