By Hermano Silva
Berlin is known by the vast offer of vintage stores and also flea markets, in which people can bring their own clothes to put on sale in an improvised way. The offer might be big, but not all the initiatives actually have a good selection of menswear. Think about cheap fabrics and a pile of 80s jeans getting dust on a corner, while just the girls are having fun.
So it was for sure a nice challenge to visit Berlin second hand stores and to pick up the very best ones together with the blogger Freddy Rodriguez, of the blog Blue Perk. Below you can find a short, but definitive guide of vintage menswear in Berlin.
IN PRENZLAUER BERG:
Dear Store – Stargarder Strasse, 9
This newly open store offers exclusively second hand clothes for men. Think about a great variety of shirts, trousers, jackets and blazers organized by color scheme instead of size or brands. The interior is quite welcoming too, not fancy but rather masculine, practical and easy – as the male natives of Prenzlauer Berg like to dress. (Brief explanation: Prenzlauer Berg used to be the place where students and punks lived after the German Reunification, but nowadays is flooded with young upper middle class parents carrying their children on their way to the organic supermarkets).
It is possible to find top brands like Martin Margiela, Dior Homme or Acne, but also good quality German brands, like Herr Von Eden. Most of the clothes have basic or classic design with affordable prices, which is exactly what most of their local clients are searching for. Most of all it feels different because the shop keepers let their clients browse and try the clothes in peace, without being pushy.
Garments – Stargarder Strasse 12A
Two costume designers who used to work in the German film industry founded Garments in 2006. "Back then there was no vintage store in Berlin that could offer a well-sorted or inspiring selection of fashion", says one of the owners Sandra Keil. Indeed, they were the ones who helped to change this landscape by creating a mixture of high and low brands, with a sense of joy and fun for clothes. The venture became successful and in the end the two founders left their jobs in costume design to dedicate solely to the business.
Nowadays Garments is a reference in Berlin, especially in womenswear, and already has two addresses (the second one is in Mitte, near Rosenthaler Platz). The menswear segment is only available at the Prenzlauer Berg store and is considerably small. It might have pointy rockabilly purple shoes, beside a Missoni knit and a 90's Helmut Lang leather coat. The point is that you can do a statement with most of the pieces you pick for yourself and be different from the crowd.
Dude – Greifwalderstrasse, 202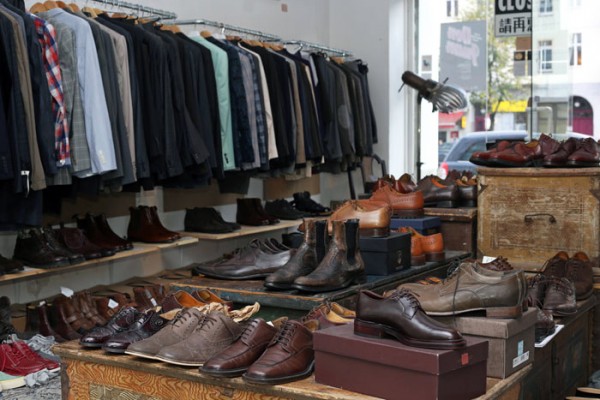 This wide store in Greifwalderstrasse is an oasis for exquisite shoes, most of them collected with passion by the owner. You can find pairs by exclusive British and Italian shoemakers like John Lobb, Church's, Crockett & Jones, Edward Green, Sergio Rossi to name few. Most of them were repaired and fixed by a cobbler, making the shoes look like new. But the clothes here deserve attention too, from classic to contemporary styles, always focusing on good materials and key pieces (mostly jackets and coats) starting from the 70s onwards.
Nicknamed "Dude" by his clients, the owner is a friendly and talkative guy who is also a sculptor. The charm of the store relies on the fact that it is made by men to other men, creating an atmosphere of brotherhood, where suddenly everybody is having a laugh, like in a gentleman's club.
IN MITTE:
Class of Berlin – Grosse Hamburger Strasse, 19A
This is the kind of store for treasury hunters. The shop is in a backyard, with new clothes on the ground floor and the vintage pieces hidden in the basement. The treasury in this case is a selection of original American clothes from the 50's and 60's – something quite specific and also difficult to find in Germany. But most of all the clothes are in very good condition and are quite current, if we consider the revival of 50s summer shirts that Prada did recently.
Another interesting aspect for those who appreciate the total vintage look, is that the store also has a barbershop in the basement with a hairdresser specialized in 50s haircuts. It might sound unusual, but it has its own reputation amongst the retro lovers because you need two weeks in advance to get an appointment.
After many years living in different European cities, Shoko, a Japanese fashion designer, decided to settle in Berlin. For a long time she collected menswear pieces to do research for her collections. Most of her archive consists of original American workwear and also Japanese designers. To our luck Shoko decided to open Townes in 2012 and sell parts of this archive. Before Townes there were hardly a place in Berlin to find Yamamoto, Miyake and Kawakubo pieces side by side. Even less probably menswear clothes from these designers.
The prices are higher than the average vintage stores, but if you are a tourist visiting Berlin, you may actually not care about this difference because it might still be cheaper than in your home country. The point here is that the curation of pieces and their uniqueness are totally worth it.
+ Read our special shopping guide with regular stores selling men's fashion in Berlin: part 1 and part 2
Follow other updates about Berlin on our Instagram account (@thegentlemanblog):

Photos: Hermano Silva © 2014