Former Capsule intern and avid menswear aficionado "Baby" Jay Wingo knows his way around a good shopping trip. So we've enlisted him to provide weekly hits of what's in store for men looking to improve their wardrobe. Up first, Jay picks his five favorite men's coats currently on sale.
Uninqlo
I'm a big fan of all things Uniqlo, so when it came to this collaborative trench with Jil Sander, of course I hopped on it. From its water-repellent shell, to its removable lining, this coat is a great piece to have year round. The belt fastening also works great for windy days. On top of that, it was finished off with the ever-so-convenient double-zipper closure.
Topman
We all know that Harris Tweed fabrics are not only stylish, but also heavyweight and quite cozy. Topman has utilized this to make a gorgeous patterned coat, with tiny subtle speckles of color. Not only will this keep you warm, but it will instantly make you look more professional, and for a very decent price. With the addition of a chest pocket that may be dressed up with a pocket square for more formal occasions, this is truly a versatile piece that could liven up any wardrobe.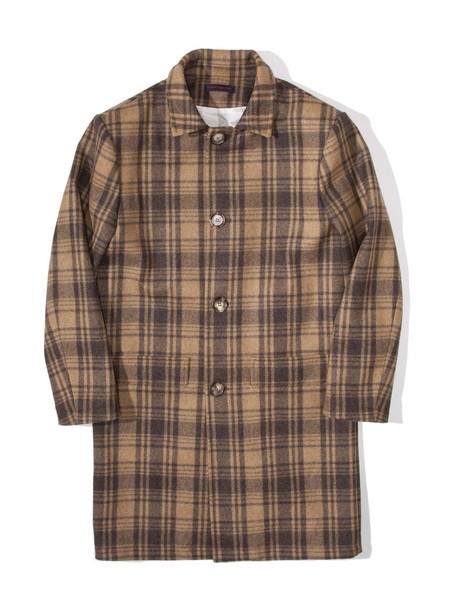 Gosha Rubchinskiy
As far as statement pieces go, the brown plaid wool coat from newcomer Gosha Rubchinskiy is great. My roommate actually just picked this up, and I have to say I'm very envious. Marked down, and currently on sale for around $600, this 100% wool coat reminds me of something I might see on The Brady Bunch, and I wholeheartedly love it. With tortoise shell buttons to wrap it up, one can really display their style when paired with classic tortoise framed glasses.
Acne
I believe that every guy deserves a nice overcoat. That said, the Garret Overcoat from Acne Studios is a great piece to have one's eyes on. With a wonderfully tailored and refined cut, this 100% wool coat is simply a timeless design. It can be dressed both up with a blazer, or effortlessly down with a slim fit hoodie, leaving me to believe this is the perfect coat for myself. Available in black, white, and moss green.
Theory
The Belvin WP Coat from Theory is a very elegant option. In a traditional camel color, we have yet another classic style that one may have in their closet forever. With the addition of concealed buttons in both the front, as well as the cuffs, I find this coat to be very sleek all around. Seen here with a shirt and tie, I find the lack of lapels as an open invite to use this coat for more casual occasions as well. Did I mention it's soft wool/cashmere blend? I'd take on any winter in this. Available in black, camel, charcoal, and navy.
Rick Owens
Do you want to look like a character from Assassin's Creed who found his way into The Matrix? Obviously. Thus, for this week's (almost) unattainable piece, I bring you this hooded cashmere coat by Rick Owens. All around, this coat just looks exceptionally badass. From the fish tail back, to both the asymmetrical hemline and closure, one may truly know what it feels like to go from Padawan to Jedi real quick. With a 100% cashmere body, this coat will ensure that once you've escaped underground from the freezing cold, you will sweat your body weight before getting off of the train. Truly a great spa technique. Available in both pearl grey and burgundy. I advise you to sell your car.
-Jay Wingo