Tim Hamilton showed us his romantic side today at his fall 2008 presentation. The designer took his inspiration from legendary dancer Vaslav Nijinski (pictured after the jump) and there was plenty of active/ballet inspired references in the form of leggings, tech fabrics and layered looks. Hair and makeup were also reminiscent of the ballet star. Knits are still a strong classification, and the grandpa sweaters and fisherman cardigans looked right over turtlenecks. Soft leather jackets had a sporty edge and blazers were carefully constructed. 
Hamilton launched his first suit collection this season as well. Emphasizing better fabrications, classic tailoring and craftsmanship, Hamilton has teamed up with an Italian manufacturer to ensure that each piece is high quality. Taking a radical approach to the classic suit, Hamilton applied elastic banding to the wrists and cuffs for a sportwear effect that looked fresh. No wonder he's the darling of the CFDA and one of the rising stars of American menswear.
More pics from today's presentation, as well as look book pics after the jump.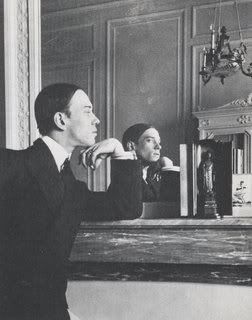 SUITS
LOOK BOOK PICS