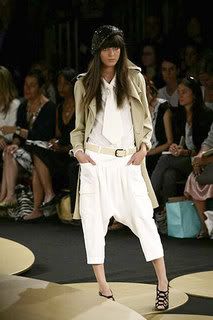 This time last year in Milan, Prada took us a voyage to East with their Spring 2007 collections bright silk collection—and of course, the infamous turban! Phillip Lim follows suit and takes a similar cue with harem pants for his spring collection. Proving that sometimes even the gaudiest of garments can be chic with a little tweaking.
Sunday's 3.1 Phillip Lim show was utterly amazing! Even as a relatively new designer the 2007 CFDA nominee has shown a very deft ability to play with patterns, colors and silhouettes to create pieces that are not only wearable, but diverse; a single collection could be worn by any and everyone from Chloë Sevigny to Katie Holmes. "I wanted to make clothes that were ready for travel," Lim said of the collection. And while everything was beautiful, the collection was a bit varied. Granted, all the pieces had this air of laidback chic, which is ever-present in the wardrobe of the "Jet Set." But by far, the harem pants were a personal favorite of mine. After Vera Wang's silk Jodhpurs in the spring, I'll admit I've been patiently awaiting the perfect harem-inspired slacks; in come Phillip Lim.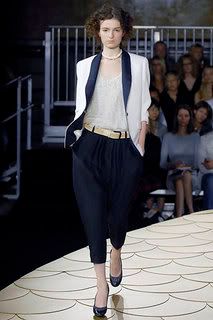 Hip slung, fitted in the calf and capri-length, they're a "no fuss" way to stand out and feign confidence-- whether you're schmoozing at Lotus or cruising down Champs-Élysées. And while traditional Indian garb has been influencing plenty of designers over the past few months, Lim's slacks are by far the coolest available in the U.S. And if you're feeling left out of the trend don't worry guys; Jean-Paul Gaultier has a black interpretation for spring, too. However, I can't stress enough the importance of avoiding (like the plague!) the Beckham family fashion faux pas: daring to go out in public with your significant other in identical outfits.