Lacoste's wunderkind creative designer Christophe Lemaire has opened a boutique in Paris that's setting a new standard for retail. The corner shop is located in a former pharmacy, and is divided into three rooms and truly reflects Lemaire's tastes in architecture, design, quirky decorative flourishes and music. Rather than focusing on a high-end, luxe vibe, Lemaire has created an atmosphere that's hip and fosters a sense of exploration and discovery.
Lemaire designed the shop to appeal to the senses of what he calls an "urban dandy," and we felt that was a very apropos term this season, given the ever growing rise of the dandy aesthetic in our market.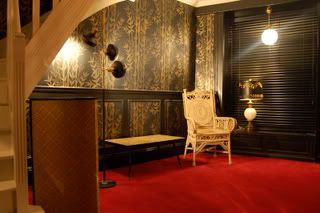 Upon entering the store, shoppers find themselves in a louche room with a funky gold ceiling and vintage wallpapered walls. A vintage Chesterfield sofa and lamp are also in this room. Another room is sparsely decorated with clothing racks and bamboo day beds and  features a decorative display of vintage speakers and textured wall tiles.

The shop was designed to house Lemaire's eponymous sportswear label, which he plans to try to relaunch this season. Lemaire offers men a full range of sportswear that's made in Japan, and will be available at below-designer level price points.

Lemaire, 28, rue de Poitou, Paris
Photos: Franklinazzi.com