More than just a store, but definitely one of the coolest retail concepts to come out of the DC area, Commonwealth is a streetwear boutique at the forefront of a growing movement.
With a motto that reads "For The Common Good", Commonwealth sets out to bring the freshest higher end streetwear and premium denim and sneakers to the area. There's a 900 sq. ft shop in downtown Norfolk, Virginia that's minimalist in design but packed with amazing goodies like  tees and hoodies from Japanese label SWGR, limited edition Marc Jacobs Vans,  Prps jackets, BBC luxury leather accessories, MHI hoodies,  and a full collection of sportswear from house label Cmon.  See a full list of the great brands carried in the shop by visiting the e-commerce site. Click here.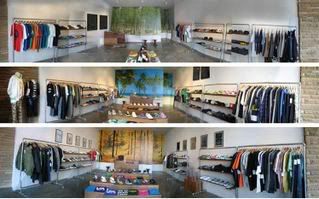 Owners Omar Quiambao and Larry Incognito hope the store will "create and fulfill the demand for the new and established street/fashion/athletic brands that influence and inspire. We carry lines that tap into the creative independent spirit," they say. In addition to featuring highly coveted fashion lines, the store plays host to  exhibitions with recognized artists/designers and photographers and specialized products and events with select companies and magazines. There's also an email newsletter that is sent out regularly to subscribers, with fashion updates, news about the store and more.
 
Commonwealth is located in Hampton Roads – a neighborhood that's  home to sports stars; Allen Iverson, Alonzo Mourning, Michael Vick and musical talents; the Neptunes, the Clipse, Kenna, Famlay, Missy Elliott, and Timbaland as well as veteran skateboard pros like Andy Howell, Sergie Ventura, and Kyle Berard.  These celebs often show their support for the shop.
 
A second shop is opening in WashingtonDC this month. The opening party will feature top talent and friends of the store-- from the likes of Clipse and DJ A-Trak and will be featured by Boost Mobile so you know the local hipsters will be out in full force.


727 West 21st Street, Norfolk, VA; 757-622-3372
1781 Florida Ave NW, WashingtonDC; 202.265.1830