The ever charming Steven Vogel was our chaperone and host last summer in Barcelona, when he was running the streetwear section of the Bread and Butter tradeshow. He's since moved on to Burton, and to publish his first book called simply, Streetwear.  He's a great guy, picky with a grand sense of loyalty, shoots straight from the hip, knows of what he speaks and definitely brings thoughtfulness to the game.
Hypebeast describes the book as a"fashion guide, fashion bible, or who's who" in street culture. The book goes into territories such as personal stories and short interviews that expand on the "fears, thoughts, goals, and opinions about streetwear" of those involved in the book. The book is 352 pages long loaded with colorful images of everything related to street culture, writes Hypebeast.
We asked Steven to discuss his current view of the market and to share some spreads from his upcoming book with WATM.
Read our interview with Steven after the jump.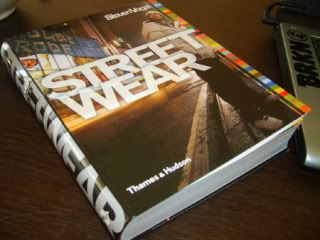 Can you give the short version of your history in the streetwear market?
I started playing in hardcore bands when I was 13 and then almost automatically started skating.
That's really how it started. I then always just worked in skate shops, music shops, bars & clubs to get me through college. I didn't like the idea of getting a real job after that, so I stayed in retail and managed a few shops in London. I moved to Gemany in 2003 and became editor of a magazine called Streetwear Today and during that time I co-edited and curated a bi-annual street / skate art exhibition and book called "untitled". I now work for Burton Snowboards as their Global Special Projects Manager, essentially taking care of all their collab needs.

How and when did the idea strike you to put all of your knowledge into a book and can you speak a little bit about your methodology?
I don't think there is much method to my mayhem. The idea had been brewing for a better part of 2 years really, maybe as far back as 2005. With my previous print releases I always felt as I had to compromise content wise, and when I approached Thames & Hudson I really just wanted to do a book on subject the way I saw fit. They were very cool about it all, they only ever stopped when I got a little out of hand.

So many longtime players and even jaded newjacks in the game are lamenting the "death of streetwear" – does mainstream success = death in this movement? What's that all about and what's your personal take on it all?
I think the majority of these people wouldn't know mainstream if it bit them in the ass. As long as you are true to yourself and are honest, there's essentially nothing wrong with being successful. As long as you are aware of the fact that every success will add two more enemies and don't start doing things to please the machine, what's the big deal? Also, no streetwear brand has hit the mainstream yet, realistically. Nike is mainstream, that's a 12Billion dollar a year company. That's mainstream. Just because some, and hardly all of them, streetwear brands sell to 50 or a 100 shops instead of 5 doesn't mean they are mainstream.

Will high-end fashion ever respect streetwear?
No, why should it? Streetwear at it's best is good graphic design on basic garments and at it's worst really bad graphic design on really cheap garments. I won't deny that some high end fashion designers are aware of what we do, but I highly doubt that they sit in front of Hypebeast waiting for the new shit to drop so they can rip the design work. On the contrary, I think there are some people within the streetwear design industry that either should pay attention to high-end fashion design, or already are, and I think that can only be a good thing.

Steven's top five brands right now:
Idiom. Tenderloin. Levis Vintage Clothing, Stussy, Vans Syndicate- those are the current ones.
I still wear Ben Davies and Dickies though. HAHAHAH.

Look into your crystal ball…what's next for streetwear?
Who cares as long as you're having fun?