We Are The Market's special correspondent Dao-Yi Chow, co-owner of Miami's Arrive boutique was in Paris last week. Here's what he thought was cool.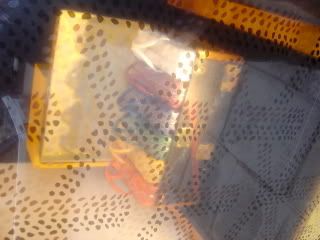 Ever have that fantasy where you run into your favorite store and have 60 seconds to grab anything your grubby hands can manage to carry? Well this would be the store for me. Forget Louis Vuitton they fell off when they started doing ads with rappers in them,Goyard is where its at for all you real ballers. And if you're a super tastemaker like me, you can get on the waiting list to get your initials hand painted at the Paris Flagship store...its only like 3 years long.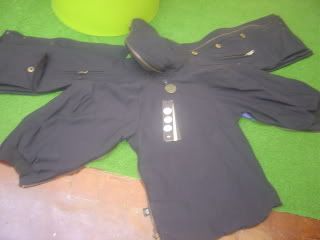 This was a cool brand called Griffin. Their A/W collection was designed in collaboration with artist Stanely Donwood who has designed album covers for Radiohead and Thom Yorke. The stuff was cool and they had this Parker that zipped out to resemble an animal throw/bearskin rug.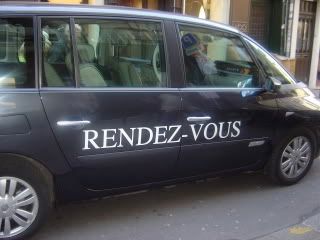 The Rendez-vous show offered a "shuttle" between its two locations. However after waiting 45 mins, this tiny mini-van showed up. It only fit 2.5 people and a half of a baguette.

One of the few things that I love about Paris is the architecture. This was the ceiling at the Tranoi show which was held at the Palais de Bureau. I think the Project show is going to be held at the Mandalay Shark Reef this season!
Is that Morrissey? Nah just the good ol' boys over at YMC. Their booth was on fire as was the new collection for A/W. I spent a good part of the day with Jimmy and Oli snapping on people and trying to talk to French models. They played the dumb role like they couldn't understand my French!?!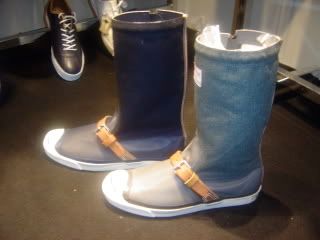 Second hottest thing at the show was a brand called Der Sammler Solo, which translates to Japanese dude with a crazy vintage collection who started his own line based on authentic outdoorsmen product. These rubber boots had a melton wool upper and Jack Purcell toes…bezerk! And you won't find these bad boys anywhere in the States when they're released except…at a little shop in Miami.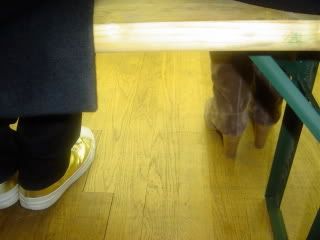 Front row at the Comme des Garcons show. These two secretly liked each other but were trying to hide it from the rest of the fashionistas. It was obvious to me though. Forbidden love strikes again.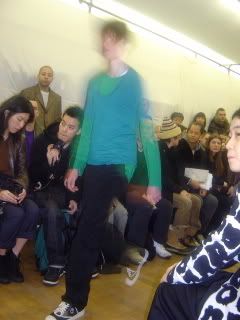 Good to see that the whole heroine chic model thing has finally passed. They really cracked down this season at the shows and made all the models eat McDonalds.