Sometimes the ensembles adorning the people who attend the shows are just as noteworthy as those coming down the runway. It's Fashion Week in NY, and our resident dandy and man about town Cator Sparks captured some great styles for your viewing pleasure. More after the jump. -Haniya Riaz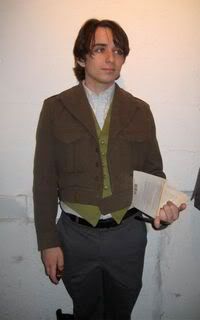 An exemplary display of layering, this gentleman pairs a cropped wool military-meets-motorcycle jacket with an olive green vest peeking beneath.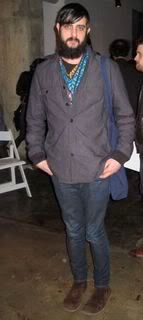 The beard a la Devendra Banhart and the Fleet Foxes has made quite a comeback and is a fashion accessory in itself. Paired with a colorful scarf, the look is one part rugged and one part bohemian.
A classic look with a structured peacoat and dark cuffed denim is updated with a pair of pointy umber-colored boots.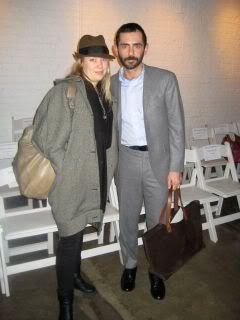 Oversized coats and fedoras for women and slim suits and totes for men, this duo proves that unisex styles are all the rage this season.
A closer look – the elongated yoke and hemline make this grey wool coat stylish and unconventional.