Capsule is partnering with Tablet Hotels this season to provide great hotel rates and travel recommendations for the SS15 shows. As we prep for the upcoming travel season, Tablet editors will be weighing in with their insider travel tips. Here, they compare Paris Hotels vs their New York counterparts. Which city has the sexier accommodations? Weigh in on Twitter @capsuleshow @TabletHotels
Not since the days of Hot or Not has a question so desperately begged to be asked. Ali and Fraser, the Hatfields and the McCoys, Kanye and Kimmel — all mere schoolyard spats compared to this one. Here we present a battle for the ages. New York or Paris: whose hotels are sexier?
Cheap Date — Night Hotel vs. The Five
In some ways they're polar opposites — the Five a sort of futuristic, neon-lit love motel in the old lamp-lit Latin Quarter; the Night a world of black velvet, its curtains drawn on the super-sensory Times Square surroundings in favor of a darker, more glamorous vision of Gotham. Both, however, have rooms starting at around a hundred bucks a night, making each of them cheap enough to check into on a heady post-party whim.
The Winner : We're giving this one to the Night Hotel. Getting a little weird in a futuristic fantasyland has its appeal, sure, but in the end New York just looks too good in black.
A Play for the Other Team — The NoMad Hotel vs. Hôtel Platine
In New York's corner, we have what's got to be the most Haussmannian building on Broadway, its interiors by Parisian designer Jacques Garcia a perfect synthesis of sex appeal and style. In the other, it's a hotel in the heart of the 15th dedicated to all things American, with a blown-up portrait of one Norma Jean serving as the centerpiece of every room.
The Winner: The NoMad's Parisian designer scores a point for New York. If it's a deep claw-foot tub by the window or a big round bed draped in red satin, we'll take the bath every time.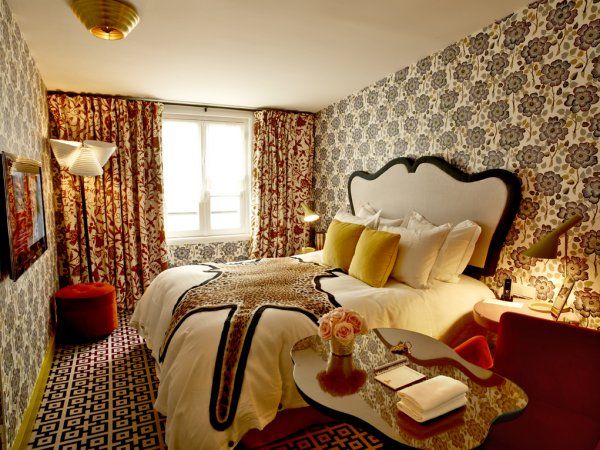 Dressed to the Nines — Gramercy Park Hotel vs. Hôtel Thoumieux
They're certainly not shy. The Gramercy Park's rooms push the bounds of decorative decency with a profusion of bordello-red velvet, splashes of green silk and even the occasional tassel hanging from a chair, yet somehow the hand of a very confident designer makes it all feel more fun than fun-house. Thoumieux, meanwhile, is testament to the visual and tactile pleasures of wildly patterned fabrics and faux leopard pelts. They're draped over practically ever piece of furniture, for a look that's almost too stimulating, but not quite.
The Winner: Hôtel Thoumieux. India Mahdavi's interior design wins out by sheer force of extravagance, inhibitions be damned.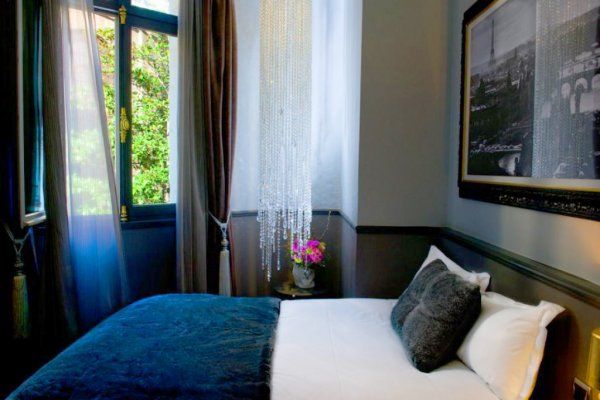 A Shameless Appeal — The Standard Hotel High Line vs. Lumen Paris Louvre
If it's been more than five minutes since we've called some attention to the Standard High Line's exhibitionistic appeal — its glass-walled bedrooms above the already rather flashy Meatpacking District, its window-side bathtubs for two — then it must be time to have another go. The Lumen, meanwhile, is all billowing beds and dark blue velvet; there are virtual acres of it. Nor are touches like a crystal curtain (it shields nothing from view) in an alcove facing the bed or a bathtub full of rose pedals any more subtle in terms of the mood they're trying to strike.
The Winner: Lumen Paris Louvre, if for no other reason than because, really, we've given the Standard enough love already. No need to smother it.
Je Ne Sais Quoi — The Bowery Hotel vs. Radisson Blue Le Dokhan's
There's nothing particularly outré about them, no wild animal prints or big round beds or high-design-whorehouse color schemes. There's just something about the Bowery and Le Dokhan's that sets a certain mood. They're both simply sexy, the former as confident and as effortlessly cool as anywhere in Manhattan, the latter like a private mansion that's been remade for fashionistas at play.
The Winner: Radisson Blue Le Dokhan's, and it's all about what happens before you get back to the room. As cozy as the Bowery's bars are, Le Dokhan's has an ace up its sleeve — an intimate little lounge with the largest champagne selection in Paris.
Final Score: Paris takes it, 3 to 2. Was there truly ever any doubt?