Friends and Neighbors opened its doors last week in East Austin and this unusual store takes shopping to a whole new level of lifestyle. Spearheaded by Jill Bradshaw (the former mastermind of I Heart – one of NYC's best shops for independent fashion that shut down a few years back) along with Jade Place-Mathews and Greg Mathews, who made a name for themselves with their very trendy Austin restaurant Hillside Farmacy, Friends and Neighbors blurs the acts of shopping and lifestyle, offering a space that features food, fashion, homegoods, and a place to just hang out with friends.
Friends & Neighbors is located in a converted bungalow and each room of the house is a showcase for specific types of products. Shoppers are encouraged to wander and explore. Mirroring the feel of an actual hipster home, the living and dining rooms offer home goods, artisanal objects, and accessories, as well as vintage clothing. The bathroom features natural beauty products from Fat and the Moon and Olo and there's a pop-up shop, featuring children's clothing for now in the bedroom. In the kitchen, gourmet foods are for sale, and the Matheweses run a café and Mercedez Singleton (the former manager of Brooklyn's Marlow & Daughters) oversees a snack bar featuring wine, beer, Stumptown coffee and refreshments. - ESS, WATM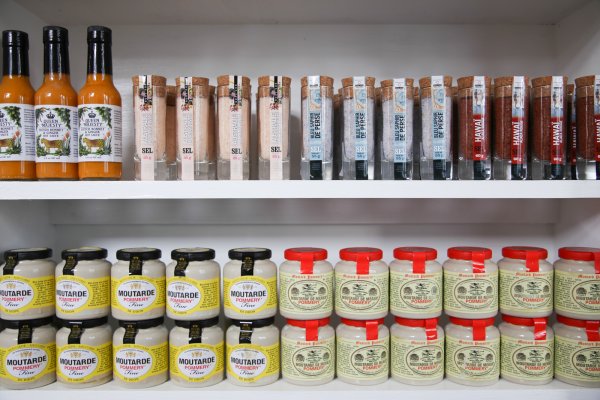 We spoke with Jade and Jill about the shop.
Tell us about Friends and Neighbors. What is the mission behind the shop?
Jade: We wanted the whole experience to feel like you are visiting a friend's home, you can stroll through looking at clothing & then grab a glass of wine from the kitchen, sit on the front porch, or hang out under the pecan trees in the backyard. The coffee shop/bar has a separate entrance around the back serving Stumptown Coffee, Smith Tea, beer & wine, tasty local baked goods and our favorite grocery items from around the world.
JILL: We wanted to create a space that feels like a home away from home and acts as a one-stop shop of well-curated products for all your shopping, eating and drinking desires.
We love the idea of a kooky house filled with amazing stuff to discover. Where do you find the things you're stocking in the shop?
JILL: That was the best part! We really looked all over for the best products in every market. Mercedez Singleton, the manager of the food section, has a real love for food and fine- tuned her skills working with Marlow & Daughters in NYC. She has put together an amazing array of gourmet dry goods. As for the retail side, I went around the country searching for vintage clothing. I really enjoy digging for that perfect sweater or dress and I get even more excited when I see someone else find that one piece in the store that calls out to them too. There's a lot of love behind each piece. As for the new designers, some were in my old stomping grounds of Brooklyn and some were found as far as Australia. Australia has always been my favorite untapped source for the best stuff.
I Heart was one of our favorite stores in NYC ever. What do you think are key elements of creating a distinctive and successful retail environment?
JILL: Why thank you!!! One of the key elements to I Heart, in my eyes, was creating a sense of comfort and community. I wanted a place that people loved coming to and came back to again and again. I enjoyed creating relationships with my customers and even having a lot of our customers become vendors as well. Creating that sort of environment goes into every detail; i.e the way the store flows, the design layout, the aesthetic, what sort of vibe it gives off, etc. Friends & Neighbors is not only a retail store but a home away from home. You can peruse the different rooms and buy some vintage clothing and new housewares or hang out in our backyard while sipping a delicious cup of coffee or glass of wine. The name alone emits the idea of community and that's what we want to provide here. A relaxing spot for our community of friends and neighbors.
Why launch of shop of objects, rather than fashion?
JILL: The shop is a multi-functional space that has an array of different goods but fashion is definitely a huge part of it. I Heart focused mainly on designers that were a little off the radar and one of a kind, I feel that I've applied the same curation with Friends & Neighbors but put the focus on vintage clothing. I've also added a variety of new accessories and housewares to round out the mix. The other rooms continue that approach, for example the bathroom contains a mix of beauty products, many of them all natural and handmade. The bedroom evokes a boudoir feel with a wardrobe filled with lingerie and textile tents that serve as dressing rooms. We will also have a rotating room in the house that will change out its theme each season. The first one will be a kid's room that will be filled with new and vintage kids clothes, toys, decor, and books.
Can you please list 5 key items you will be stocking in the shop?
Cody Hoyt planters: these are just amazing, everyone needs to spruce up a plant with one of his planters
Jellies!! i wear mine almost every day, it's the perfect shoe. Comfortable, goes with everything, and looks great with socks.
Melanie Rice jewelry: these colorful bangles are made from folded copper and colored enamel then thrown in a kiln. Each one creates a beautiful unique pattern and texture. Worn stacked or on its own, I feel like each one is a piece of art.
Olo fragrances: Heather, the owner, mixes every one herself and makes all the bottles herself. I love that sort of commitment to a product. Also they smell amazing.
Suku bed set: It's like waking up to a dreamy and colorful landscape of clouds every day
If you're shopping in Austin, Jade recommends these places in East Austin
913 E. Cesar Chavez St.
A place to explore Art, Music, and Culture
1403 Chestnut Ave.
Simple bespoke denim in the "greatest state" in America
2109 E. Cesar Chavez St.
Vintage treasure trove in an old Austin house.
1710 E. 2nd St.
Dedicated to perserving cultural heritage and classic American style.
Hillside Farmacy (Jade & Greg Mathew's restaurant)
1209 E. 11th St.
A restaurant & specialty grocery store located in an old Drugstore.