While scrolling and trolling down the rabbit hole of Instagram we landed on planet @iscreamscolour, a veritable visual cacophony of so much that we love from San Diego-based artist Humberto Cruz. That's cute overload in the form of smiley faces, kitties on skateboards, lipstick kisses, tiny pyramids, rainbows and wide-eyed sweetie pie portraits of the somewhat predictable (Miley Cyrus, the Olsens, Rih Rih) and the unexpected (Eva Chen, Lynn Yaeger and Mel Ottenberg). Three sheets of exclusive Capsule doodles later, we spoke to Humberto and chatted it up about his artistic dreams, to peel or not to peel those precious stickers in your collection, and that troll life.
By Minya Quirk, Capsule Co-Founder
Name: Humberto Cruz
Age: 30
Star sign: Pisces
MQ: It's nice to finally speak on the phone after so much correspondence and just knowing you through Instagram. Tell me about yourself!
HC: I was born in San Diego but moved to Tijuana, Mexico where I grew up. I returned to San Diego when I was 16 and went to college at the Art Institute of California - San Diego. I studied graphic design and graduated in 2007. It was so hard finding a job. I work full time in a grocery store, it's a 99 cent store. I've been working there since I was 17.
MQ: And you've got a pretty decent following on Instagram!
HC: I discovered Instagram almost exactly three years ago and I've been posting every day, sharing my artwork. I reached 10k a month ago thanks to people reposting. I guess it started when I drew Cara Delevingne wearing a Jeremy Scott sweater and one of his friends reposted; things went viral from there.
MQ: Were you always drawing as a kid?
HC: As a kid I was always into different characters, the Little Mermaid. Disney movies. I would watch the movie and pause it to draw the characters and specific scenes.
MQ: What was your favorite scene to draw from Little Mermaid?
HC: The wedding scene. Sebastian and the cake.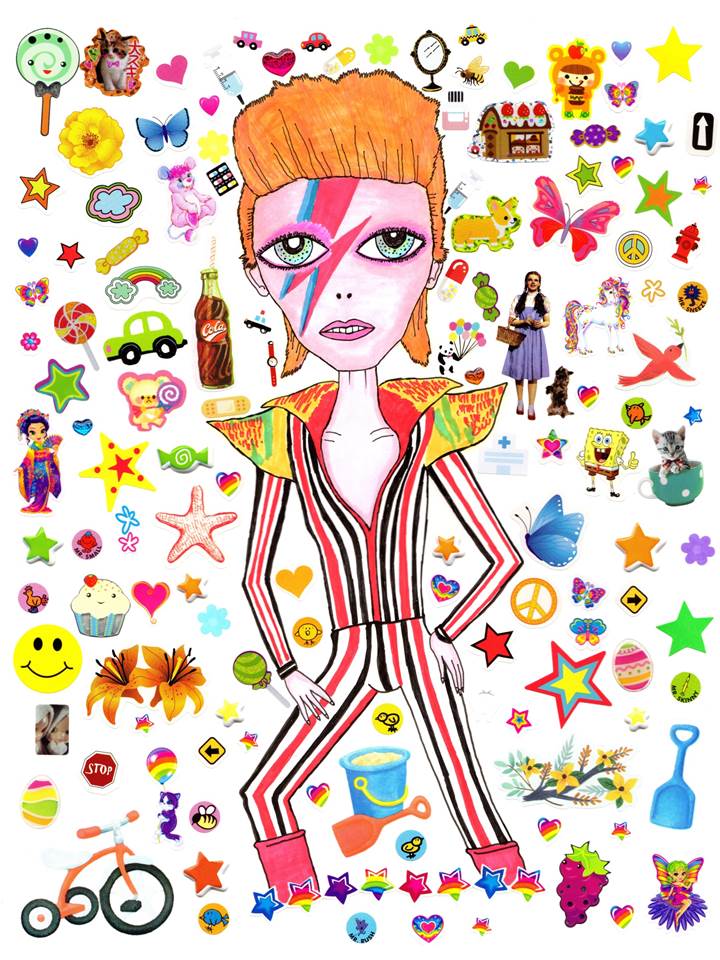 MQ: So let's talk stickers. They play an important part in your work. I'm a collector myself. Tell me about it.
HC: I've always collected, and had them in a box. I wasn't inspired for a few years after I was finished with school. I'm drawing celebrities, thinking what should I do with the backgrounds? Should I use my stickers? Are they going to stay there in the box forever? It's better to look at them in a drawing.
MQ: That's hard! Where do you buy your stickers?
HC: eBay.
MQ: You're probably bidding against me!
HC: Probably.
MQ: In the world of cute things like Lisa Frank or Sanrio, what's your poison?
HC: Probably trolls. I collected them as a child and I've started buying them again on eBay. My collection from when I was young, the hair got all damaged from water, from playing with them. Like cutting their hair or washing it. Also My Little Pony, but that was when I was younger. Right now I'm obsessed with Polly Pocket dolls.
MQ: What about fashion, you've done some portraits of pretty obscure fashion personalities. People that are not widely known outside the industry. But I guess that's the internet for ya. What draws you to fashion?
HC: It's always changing every season. I just like the way people express themselves with clothes. Here in San Deigo we don't get to wear those things, interesting things. It's not New York or Paris.
MQ: Like, people are just wearing flip-flops.
HC: People are lazy here! It's fun to see it on the Internet.
MQ: How do you choose people to draw, especially the more unexpected portraits?
HC: I draw people if I admire their work, like a Donald "Drawbertson" Robertson. Bryan Boy, I love his style I love what he does. Sometimes I just like what they're wearing in a picture I see, like (legendary stylist) Carlyne Cerf de Dudzeele in Jeremy Scott. I like what she's been doing with Miley. I like to mix personalities that I grew up with, with the latest pop star or maybe a historical figure in an outfit that I like.
MQ: What kind of fashion websites do you frequent every day?
HC: V Magazine (vmagazine.com). Oyster (oystermag.com).
MQ: Favorite fashion designers?
HC: Kenzo, Jeremy Scott – people have been criticizing him lately for using other people's stuff lately, but…Vivienne Westwood. Alexander Wang. For Halloween I really like to design my own elaborate costume. Use the glue gun.
MQ: What were you this year?
HC: I was a troll this year.
MQ: Do you ever think you might work in fashion?
HC: I'd love to design shirts. I would love to do graphics.
MQ: What do you like to listen to when you work?
HC: I love pop music. My favorite song right now is "Pom Pom" by Ariel Pink.
MQ: Other sources of inspiration
HC: David LaChapelle, Jeff Koons, pop culture in general.
MQ: Top three people in pop culture you like to draw
HC: Miley, the Olsen Twins and Britney Spears.
MQ: What's coming up in your near or far future?
HC: I'm just looking for the right opportunities to do what I like to do – to make art. I did a project for Intel, some avatars. I have an editorial project coming out with a Herself magazine from London.
MQ: Thanks, Humberto!