Last night, Chanel held a dinner in New York to premiere a new film for their No. 5 fragrance, starring Gisele Bundchen and directed by Baz Luhrmann. Anyone who is anyone was there. Except us.
But fear not, while we may not have had the sleek and chic invitation in hand, we do have an Instagram account. Here, in the latest edition of #FOMO Files, we've recreated the night using everyone's favorite photo sharing and FOMO-inducing social media platform.
The night started out peacefully enough. Everyone seemed to be really "on the zone."
Bill Cunningham was there!
And of course, so was Kaiser Karl.
Wow, sure seems like a lot of olds. Were there any young people in attendance?
Oh, the youngest people in fashion! That's good. But you know, it isn't really a high-end fashion party until Derek Blasberg shows up.
Thank God! I was worried there for a minute. Of course, it looks like we're still missing at least one Misshape, though.
OK - there's one.
And there she is again...
OK. We get it. This party had everything.
What was it like when Gisele arrived?
OMG! But did she still look stunning whilst being mobbed by the crowd?
Fantastic. I hope she at least had some fun, though.
Hey, wasn't this supposed to be a dinner? Did anyone eat?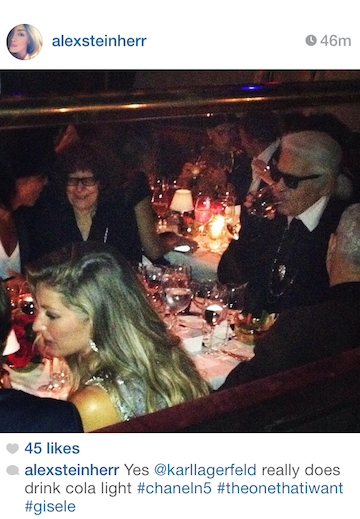 Close enough. Did they even have food?
Yum! Anything else?
Oh, the Hollywood Diet. Bottoms up!
Looks like it was a fun dinner, and the guests didn't even have to sit through any boring speeches.
Oh. Nevermind.
Thank God that's over. Time for a selfie?
Great! Oh...about that film that premiered: will us pleebs ever get to see it?
Wonderful. Thanks for a great night, Chanel! See you next time.