Through their unique dedication to both heritage and history, these designers offer a bevy of menswear options that span the style spectrum and are sure to help you combat the cold with aplomb, and make you want to reach for them come the first signs of spring as well.
Eidos Napoli
When Eidos Napoli first debuted at Pitti Uomo 85 this past summer, its refreshing take on tailored Neapolitan style was widely hailed as one of the best in recent years. To label the brand, as some have, a mere diffusion line of Isaia, the storied Italian tailoring house and its parent company, would not quite be the appropriate moniker. Eidos serves perhaps as a younger, more rakish brother to its slightly stuffier elder sibling; one that is not afraid to let a soft spread collar flap freely in the wind, or nonchalantly allow the blade of a speckled Donegal tie to hang elegantly askew. Led by Antonio Ciongoli, the former Deputy Creative Director of Michael Bastian, Eidos Napoli is the embodiment of classical Italian cool. Eidos offers traditional Neapolitan tailoring like soft shouldered sport coats in lush glen plaids and double-breasted suits with soft peak lapels, updated with modern detailing fit for the contemporary gentleman. However, whereas Isaia tends to skew towards a more formal aesthetic, and higher price point, Eidos injects its pieces with a youthful sprezzatura that makes for refreshingly pleasing combinations like a bold plaid overcoat and burnt orange knit cardigan paired with faded blue jeans that long ago lost their initial cerulean luster. It is this unique synthesis of old world Italian style and modern day informalities that make Eidos Napoli such an exciting new brand; always appealing to the discerning dandy interested in fine tailoring that is both elegant and sporty.
M.Nii
M.Nii began over fifty years ago as a small tailor shop based in Oahu, Hawaii. The original M.Nii shop is largely credited with inventing the surf trunk, and has outfitted hundreds of notable surfers since. Recently revived by John Moore and Randy Hild in 2012, M.Nii has since proven that it is more than board shorts. While the original "Makaha Drowners" are still available to purchase on the brand's website, M.Nii has since expanded into a veritable mine of menswear staples, offering the likes of strong sturdy windbreakers, super soft pique polo shirts, and tough twill trousers that would look equally appropriate on the beach as in the office. Though the shop initially worked to outfit the surfers of its day, the clothes M.Nii makes now would be an asset to any man's wardrobe, whether he knows his way out on the waves or not. In recognition of its contributions to menswear, M.Nii was named one of GQ's Best New Menswear Designers in America this past month.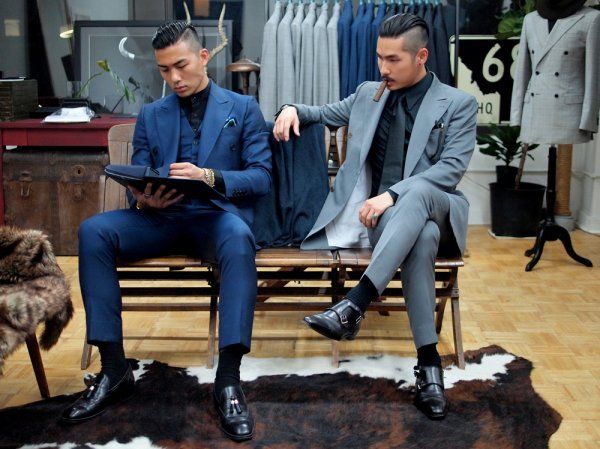 HVRMINN
HVRMINN (pronounced Hur-minn) offers one of the most recognizable silhouettes in menswear today. Defined by its characteristic strong shoulders and exaggerated peak lapels, a HVRMINN suit borrows heavily from the aesthetics of the prohibition era gangster and suggests a throwback to a time when men typically wore suits regardless of the occasion. Initially founded by Parsons alumnus Minn Hur as an exclusively made-to-measure operation, HVRMINN has since branched out to include a ready to wear label named EPONYMOVS by HVRMINN, with all fabrics sourced almost entirely from renowned Brooklyn tailor Martin Greenfield. In its widely acclaimed New York Fashion Week debut for fall 2014, HVRMINN presented its signature tailoring alongside military inspired pieces like belted field jackets and pleated olive trousers, as well as pieces like a heavy camel overcoat with a beefy shawl collar and razor sharp three piece suits. In HVRMINN's hands, even the stuffiest clothing combinations are made to feel fresh and exciting, like the classic navy blazer and cream pants offered in the fall collection. Presented as a crisp double breasted sport coat with gleaming white buttons and a pair of slimming white slacks, the combination was the perfect example of the role HVRMINN plays in menswear today: making it fun to wear a suit again.
Haspel
Founded in 1909 by Joseph Haspel, his eponymous clothing company eventually rose to fame as an original pioneer of seersucker, a lightweight Indian suiting fabric that quickly became a summer staple for the gentlemen south of the Mason Dixie line, near his hometown in Louisiana. Haspel was first introduced to the revolutionary fabric during his travels in British India, and recognizing opportunity, brought it back to the States in the early 1900s. Seersucker was then popularized by the college prep crowd of the 1920s and has remained a favorite summer fabric amongst college kids and modern day dandies alike. Recently, Haspel has tapped designers Sam Shipley and Jeff Halmos (of Shipley and Halmos fame), to oversee the design process behind the storied brand, and infuse the age old brand with a much needed dose of the signature Shipley and Halmos irreverence. In their first fall collection for Haspel, Shipley and Halmos managed to retain the classically American spirit of Haspel suiting, all the while injecting their own quirky and fun twist. The pieces that followed include a slim fitting suit in grey tweed, nautical inspired boating sweaters, and chunky knit sweaters in colors like cream and burgundy. In their following spring collection, Haspel's signature seersucker is sure to get a revamp as well.
Amie Leon Dore
Aime Leon Dore released its debut collection via its website earlier this year and all thirteen pieces sold out almost immediately. Aime Leon Dore was such a success not only because it offered well-made and attractive menswear at a relatively approachable price point, but also because it recognized an inherent hole in the market and realized it could be the one to fill it. With its assortment of elegantly simple basics, Aime Leon Dore capitalized perfectly on the current movement in menswear. Its thirteen piece collection featured standout items like tapered sweatpants, thermal lined oxfords, and sleek flight jackets with brown leather trims. The standout success of Aime Leon Dore represents the marked shift in menswear over the course of the last couple of years towards the more casual and the less tailored, and makes it all the more exciting to see what the brand comes up with next.