With a background designing for the likes of Lanvin, Kenzo, Jean Paul Gaultier, Zegna, and Paul & Joe, Belgian designer Jungho Geortay brings years of expertise to his current position – creative director of the French heritage label Armor Lux known for its Breton inspiration. As if that doesn't sound like a full time job on its own, Geortay also designs his own collection called Saint Paul, which features signature conversational prints. And there's more. WATM checks in with Geortay as he readies his SS14 collections. We talk to him about Armor Lux today and Saint Paul tomorrow.
You can see Armor Lux at Capsule in Paris and New York.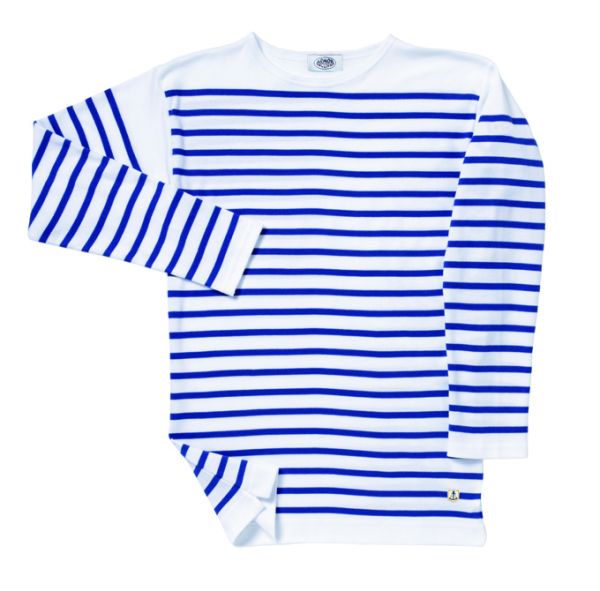 We Are The Market: Please tell us a bit about your background.
Jungho Geortay: I am a Belgian designer; I have worked in the past with Lanvin, Kenzo, Jean Paul Gaultier, Zegna, and Paul & Joe. I've been working with Armor Lux for more than 5 years now, as head of the design for the Héritage Line for menswear and womenswear. I am also head of the design for a Chinese brand, Cabbeen, who aims to be the first Chinese luxury menswear brand in China. And I have my own label, SAINT PAUL, that I have launched 4 years ago, which is retailed in some of the best stores in the world, such as Bergdorf Goodman, Le Bon Marché, Kapok HK, Lift Tokyo, Tomorrowland, amongst many others.
I am proud of my work with Armor Lux; it is very rare for a designer to be with the right people at the right time to rebuild a brand image. What I am hoping now is that my work will keep the brand successful and attractive again for many more years to come.
WATM: Hey Jungho, why do you think that Breton style is being re-discovered by young men and cool kids right now?
JG: Actually Breton style has always been popular here in France, and for people Armor Lux is truly part of the French know-how. But I think that what is interesting here, is that younger people are looking at heritage brands such as Armor Lux with a fresh new look, and want to make it cool again. We are in a period where we're looking for authenticity, quality and labels with a real story. Products like our Héritage line are meant to last awhile, and is truly at the opposite of the fast fashion logic; our clients like the fact that our products are originals, they have a past and a meaning, and the final customer is continuing the story by owning it. The nice 100% wool sweater that I own I will keep long enough to eventually pass it on to my children.
WATM: How do you keep the brand relevant and innovative while staying true to the brand's roots?
JG: When I started to design for Armor Lux, I was very happy to join a legendary French brand with Breton roots. But the label was a bit like a sleeping beauty. As a designer, it was really easy and exciting to just open their archives to make it cool again. People have forgotten how beautiful knitwear and Breton style could be and technically exciting. Some of our designs can only be manufactured on very old industrial machines that the company has kept, like the Mecmor or the terry cloth, circular and interlock jersey. With the help of Armor Lux team and export director Marco Petrucci, we decided to bring the brand's true know how and values back to life, and we created the Héritage Line for a modern and contemporary customer; we are not only speaking to young and cool clients, we want to keep our past customers feeling cool and authentic as well.
WATM: Where is the product made? Tell us about the manufacturing process.
JG: We are proud to manufacture most of our circular knits still in France in Brittany; we look for the best quality French and European manufacturers but also ethical manufacturing sourcing.
WATM: What's new for SS14 that you will be showing at Capsule?
JG: Armor Lux has used to be very famous for their underwear, and underwear textures and shapes will be important for the new season: Honeycomb textures, old fashion menswear underwear back to life.
But of course, we will still be showing typical sailors stripes, but also some new stripes inspired by early 20th century "croisière lines" and "transatlantique chairs".
Workwear shapes and details and sailors outfits will also be a major influence.
WATM: What is one of your favorite pieces in the collection?
JG: There is a honeycomb texture 100% cotton sweater, on a light gauge that I really love: it shows something old fashioned but revamped and cool, that really reflects the spirit of the brand: authenticity and modernity.
WATM: Any other news that you'd like to share about the brand for SS14?
JG: Some exciting collaborations with Tenue de Nime for SS14 and Faribault for FW Christmas 2013; and a collaboration with the exciting Hong Kong Store KAPOK.
And many others ....
------------------------------------------------------
See our interview with Jungho about his other collection—Saint Paul tomorrow.