As we prepare the freshly picked vegetables from our own winter garden, we love to stimulate our taste buds with the real Aceto Balsamico Tradizionale. Sure, we well know Aceto Balsamico. It is highly valued by food lovers and modern chefs alike. So when did we become aware of the true Aceto Balsamico Tradizionale, so different from the mass-produced Aceto Balsamico?
For Aceto Balsamico Tradizionale has been produced in Italy's Modena and Reggio Emilia regions since the Middle Ages, being mentioned in a document as early as 1046. The original Italian traditional balsamic vinegar, Aceto Balsamico Tradizionale, is made from a reduction of pressed Trebbiano and Lambrusco grapes. The resulting thick syrup, called mosto cotto, is then fermented during a slow aging process, which concentrates the flavors for a minimum of 12 years in several casks of successively smaller sizes.
Visiting the local producing families of Aceto Balsamico Tradizionale, we opened our eyes for the true balsamic vinegar. Delikatessen cherishes its rich, glossy, deep brown color, the natural sweet and sour flavor with hints of wood from the casks, like chestnut, cherry, oak, mulberry, ash and juniper. We recognize a shared inspiration in our search for true fabrics and manufacture. Delikatessen too achieves the honest flavor of quality, sensuality in our design and simplicity in silhouettes, with an unmatched richness in fabrics.
Delikatessen Balsamico AW 15 Collection introduces contemporary broadcloth winter coats. Broadcloth is a dense, plain-woven cloth, made of wool. The dense, blind, face cloth with a stiff drape is highly weatherproof and hard-wearing. Broadcloth, originally called Laken, was first produced in Flanders, Belgium, from the 11th century. Followed by other European cities as Leiden, The Netherlands and Florence, Italy. Delikatessen found a dedicated European manufacturer, producing from the 19th century onwards to high standards.
Delikatessen colors and textures combine tonality with a soft touch, similar to a drop of the deep brown Balsamico Tradizionale. Our high-quality design and craftsmanship have turned these unique fabrics into garments to keep you warm and cherished for many winters to come.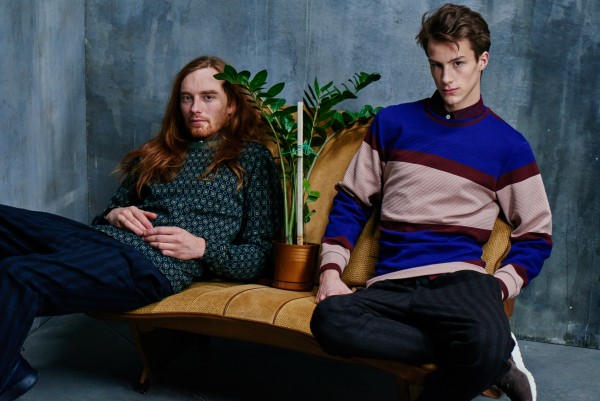 ---
Delikatessen AW15 will show at Capule Paris - Photos by Zuza Krajewska, styling and creative direction by Andrzej Lisowski