Word on the street is that the (capsule) show was the highlight of men's fashion week in NY and the only show that mattered for people looking for menswear that was fresh and inspiring. Special thanks to everyone who is part of our growing community-- all the buyers, editors, designers, sponsors, and other guests that came through. The mood at the show was reinterpreting quality menswear basics for a more fashion forward consumer. There were plenty of slim trousers, cardigans and woven shirts to be found, but all had a twist to them, whether it be contrast fabric lining or unusual button treatments. Directional footwear, evolved streetwear, unique eyewear and accessories and handcrafted denim rounded out the assortment.  
There's a new movement in men's fashion, and (capsule) is at its forefront.
More after the jump.
The show was AWESOME! But don't take our word for it, check these early reports…

http://www.freshnessmag.com/v4/2008/01/24/capsule-show-nyc/
http://www.selectism.com/posts/archive/2008/january/23/capsule_show_krane_design/index.htm

 http://www.highsnobiety.com/home/the_daily_news/archive/2008/january/23/capsule_show_nike_tech_pack_spring_08/index.htm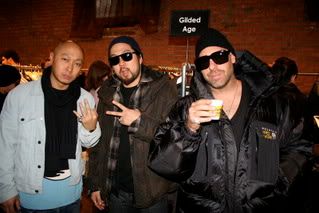 And here's what wgsn had to say…
INSPIRATIONAL CAPSULE EXCITES WITH FOCUS ON SILHOUETTE AND OUTERWEAR
Its untraditional setting and exciting list of brands made Capsule one of the most inspirational and talked-about trade shows at New York's Angel Orensanz Foundation Center for the Arts this week. Exhibitors and visitors showed equal excitement and interest over the wide autumn/winter 2008 selection of directional men's premium product.
Following a strong debut for spring/summer 2008, organiser BPMW wanted to keep the show very intimate, emphasising the notion of a "fashion community", where selected brands, buyers and editors could share their vision for premium product.
Chris Corrado, sales director of BPMW, highlighted the importance of adding more depth and layers to the show versus adding more brands.
The show emphasised the ongoing trend of easy and sincere fashion. Classic shapes with a lot of detail confirmed the continuous focus on the overall silhouette. Skinny bottoms and fitted dress shirts are complemented by oversized outer and knitwear. Outerwear has become an important part of numerous collections, as there is a growing interest in the segment - wool, leather, waxed canvas and nylon are the most important fabrics.
Fabric braiding, hooded dress shirts and layering are among the most inspiring trends spotted at the show, while shades of grey, black and beige confirmed the continued casual formalwear influence.