A common appreciation for abstract pattern cutting is what attracted designers Jenny and Dimitris to each other when they met as students at the London College of Fashion in 2002. Together they formed Jena.Theo -- a London based collective-- and set out to create iconic, minimalist silhouettes that embody the unexpected.
As the duo continue to push the boundaries of traditional techniques, they were awarded the prestigious Fashion Fringe award in 2009. In 2011- artist O.Two joined the creative team, contributing new surface detail in print and hand painted fabrics.
Prints are a focal point of this collection, and the imagery that Jena Theo utilizes is either created by hand, hand painted , photographed or digitally manipulated. Using fashion as a vehicle for experimentation, a denim collection of skinny jeans and ready to wear dresses utilizes a familiar fabric in unexpected ways.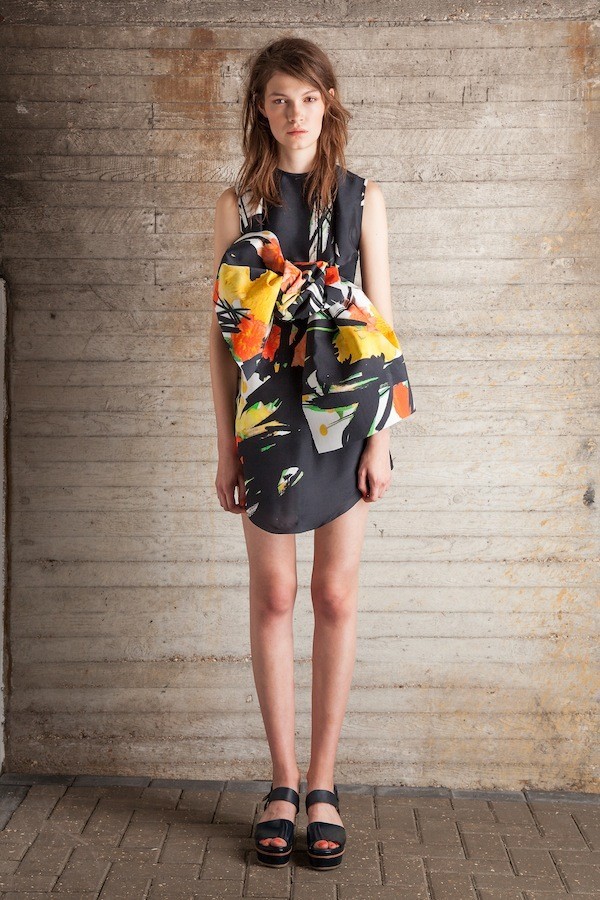 For SS15, the group continue to experiment with new techniques: silk is bonded with neoprene and hand printed to give innovative structure. The denim collection is available in 7 washes and 5 leathers. For SS15 Jena.Theo explore their love for paint, texture, and hand crafting, looking to the last days of disco in the hazy summer of 1979 and the Japanese influences in print and silhouette intertwined with the music and porn industry at the time. Be sure to check out the Seventies collar swing dress and square tee dresses in bold, floral prints.