Dance and movement are key influences for LA based designer Shaina Mote this season. Inspired by the work of John Cage and Merce Cunningham, Mote launched the season at the Hammer Museum with a dance piece to show her clothing. Other influences range from Japanese minimalism, "Small Trades" photographs by Irving Penn and the work of Robert Smithson.
See the SS15 collection at Capsule NY, September 12-14. Read more about it here..
Mote is known for her black and white palette, and seasonless clothes that adapt and morph into multi-look pieces. The "Tie Dress" can be worn about 10 different ways ranging from a very laid back day look to a more chic evening look. New for SS15 is the Apron Dress. The piece can be worn front to back or back to front. The pattern is simply one piece and incredibly simple, but it can be layered and worn in multiple ways.
Sustainability, timelessness and local production are very important to Mote, and all production is done domestically in the U.S. using all family run sewing operations.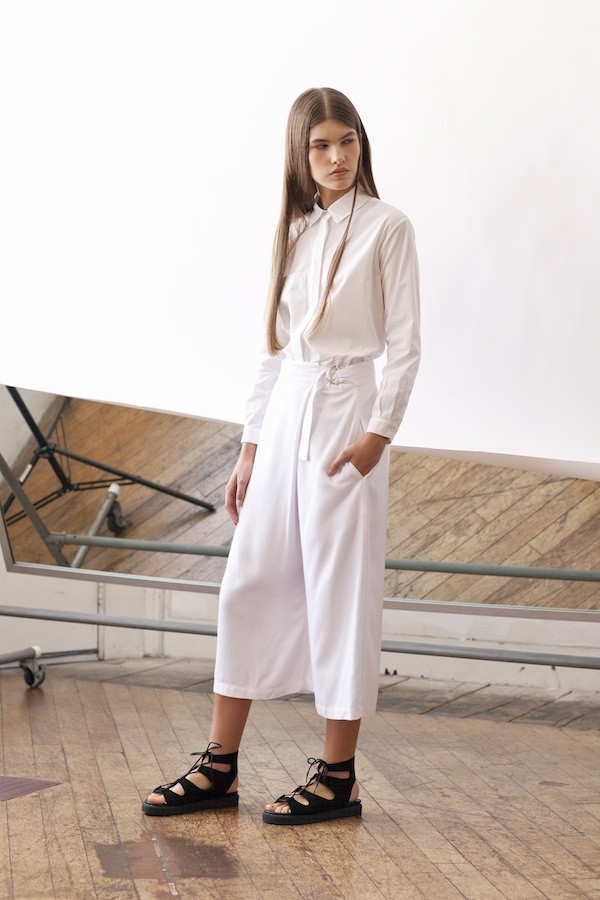 WATM: Why the black and white palette?
SM: Besides the fact that I find black and white to be quite timeless, it allows the viewer to focus on the cut, construction and details within the pieces much easier than with a print or heavy texture. I have a background in pattern making and find this part of the process to be my most creative outlet within the design process.
How did you get interested in dance?
When I first started the line, I was lucky enough to meet my friend Jmy James Kidd who owned a performance/ art / dance/ space next to my studio. I became completely immersed in her world as a dancer/ choreographer and the means of which she uses to express her vision. Dance is technically so far removed from fashion design yet so incredibly similar at the same time. Being close to Jmy renewed my outlook on expression and creativity and led to a great love of dance.
WATM: What does it mean to you to be an LA based designer? What's the state of fashion in LA in your opinion?
SM: I feel like LA is in a very up and coming position in the global fashion scene. I think the city has a real, live undercurrent of incredible undiscovered designers that aren't what you would expect from the veneer that people associate with "L.A." Because the cost of living in L.A. isn't as high as say, NYC, you see younger lines cropping up that are giving the city some real relevance in the larger scheme of things.
WATM: Why do you choose to manufacture in LA?
SM: I like to have a relationship with those who are helping me build the pieces. This is what I am currently dedicating my time to creating so it is really nice to be close with those who play a huge part in the development of the company.
WATM: How you describe your personal style?
SM: I think my line reflects a lot of what I love :) Black and white, monochromatic looks, more oversized layers, easy styling, refined details. My job requires a lot of running around, so I dress very practical and simple on the day to day.
WATM: Who or what do you consider to be a very important influence in fashion right now and why?
SM: Timelessness. I am all for designers building pieces to last. There is so much H&M, Zara etc out there that won't be around in 40 years due to the quality of construction. It will be so interesting to look back years from now and see some of the styles we are creating now called "vintage" and to see the styles reinterpreted again and again.