For six years, Orlebar Brown has been the most sought after brand for men's swimwear. Photographer, Adam Brown took a venture into design when he became fed up with unflattering board shorts and the need to pack two types of shorts for swimming and leisure time on the boardwalk. If you want something done right, you gotta do it yourself, and Brown has delivered with Orlebar Brown. The swim trunks that seem less like trunks and more like casual shorts have a minimalist design and slim tailoring that look more elegant, mature, and more pleasing on the eye than the typical loud and oversized board shorts. The shorts transition effortlessly from the daytime swim to the nighttime cocktails. Less is more. The brand has gotten looks by superstar celebrities, has a guest spot in the latest Bond flick, Skyfall, and has collaborated with Bill Amberg, Monocle Magazine, and Nick Wooster. Now, Orlebar Brown has an expansive collection fit for a resort vacation getaway- bright chinos, slim polos, lightweight unconstructed jackets, loungewear, and of course swim shorts. With this track record, you would never guess that the brand started out of Brown's apartment with just $65,000.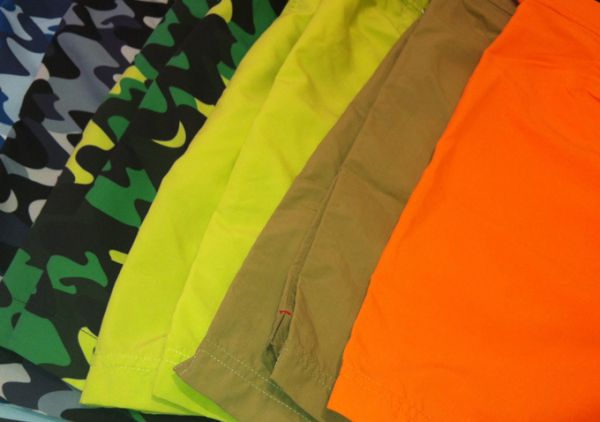 For SS14, the vacation getaway will be in Monaco. The brand's inspiration has been Monaco's yacht culture and the Monte Carlo Grand Prix. Breton stripes are prevalent in the SS14 collection reminiscent of the nautical life. Monaco's landscape colors are the story for the collection. Chicane yellow, Riviera blue, and Marshall orange represent the clear skies and the beautiful sunsets of the city. Grand Prix advertisement of the 1950s and travel posters of the 1930s are recreated and printed on shirts as well as swim shorts, the swim shorts in particular are the pieces to look for in the SS14 collection.
The brand's popular Bulldog shorts go retro with the printed posters. The art styling and dates add authenticity to the inspiration. The Hulton Getty pool and seaside images appear on the Bulldog shorts- two of which are our favorites, especially the black "Monaco Grand Prix" shorts.
You can catch Orlebar Brown's SS14 collection at Capsule Paris.