Capsule Best In Show is a series where our friends, who just so happen to be the most prominent multi-disciplinary players in the menswear industry, give us the scoop on what they believe to be the best piece at Capsule Spring/Summer 2015, how they'd style it and why they need it in their wardrobes.
Skylar Bergl – Writer, Four-Pins
Outerboro Hooded Jacket
Our man Skylar is a sneaker head, writer at Four Pins, and very fond of Outerboro's SS 15 collection. For his favorite piece at Capsule NYC SS15, he chose a sleek sportswear-inspired jacket, finished with some functional and attractive details.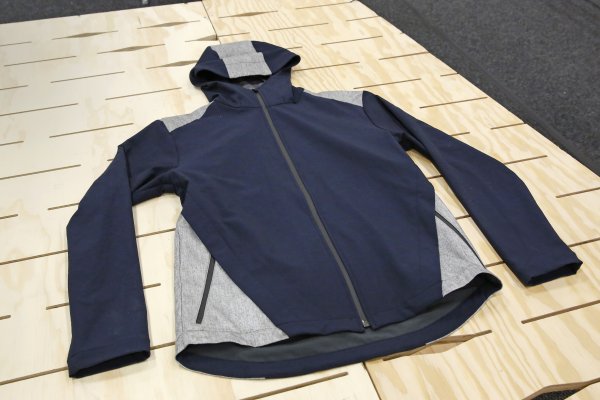 WATM: We went through a huge variety of garments today, what drew you to this piece?
SB: Initially as I was going through, the first thing that drew me was the color. I'm into neutrals mostly, like black, gray, white, and navy pretty much make up my entire wardrobe, so I saw the navy and gray here which was a winning combination. As I moved it around, I saw what it was made of, this light but not too light technical fabric, not like a lightweight running jacket by any means. It's meant to keep you a little bit warm, and it's a little bit neopreney, a little bit stretchy, but not too crazy.
Any cool finishes or details worthy of mention?
On the sides there are some cool pockets to store your stuff, phone, keys, and whatever you need, but on the back there's another zippered pocket that extends all the way around, like an undercover fanny pack sort of thing, and I've been finding that I've been wearing pants and bottoms with no back pockets. It would be really useful for that sort of replacement.
How does the jacket fit into your general wardrobe and aesthetic?
I've been moving a bit towards actual sportswear pieces in my wardrobe, so I have a lot of track pants now, as well as sweatpants, lightweight tops and t-shirts. This would be a nice sort of mid-level layering piece. I don't know if I'd layer too much with it, but it's the right weight for a spring, summer, or even early fall jacket.
So how would wear this jacket? What would be the kit head-to-toe?
I don't think you'd be wanting to mix in a button-down or anything with this; it's be a little too much. What I'd probably wear it with would be a pair of basic sneakers. I've got a pair of Nike Huarache's on right now. I'd probably wear those with a pair of black or navy track pants and a t-shirt underneath. I think that'd go very well together.